What The Media Tell Americans About Free Enterprise


Special Interests Exposed
AARP, Tax Code Come Under Fire
When reporters do stories about powerful interests ruling Washington, they usually focus on large businesses. There's certainly nothing wrong with investigating how businesses often use political power to protect their interests at the expense of others, but these same reporters rarely look at other groups that do the same thing.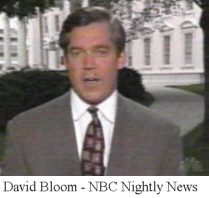 NBC's David Bloom, on the July 25 Nightly News, was an exception. Bloom examined the influence of the American Association of Retired Persons (AARP). According to Bloom, the AARP is "so powerful, so fiercely protective of older Americans, it's been called the most feared lobby in Washington."
"Today," Bloom continued, "the AARP declared as dead President Clinton's controversial plan to raise Medicare premiums on wealthier senior citizens. It can do that; one in every five registered voters is a member, 32 million people."
Bloom ran soundbites from both sides, including AARP Executive Director Horace Deets and Republican Senator Rick Santorum. "The best description of the AARP is the ostrich," Santorum said. "They just simply have their head buried in the sand and hope that all these problems with these seniors' programs that we're looking at will just simply go away." Bloom said of any long-term reform of Medicare: "Without the backing of Horace Deets' powerful lobby, that may be impossible."
Last year, many Republicans ran on proposals to make America's tax system less complex. This year, Republicans in Congress passed a budget deal that made the tax code much more complex. A few reporters, such as CNN's Charles Bierbauer on the July 31 World Today, have noted this irony.
Anchor Joie Chen introduced Bierbauer's segment by advising viewers: "Given how complicated this [budget deal] is going to make next year's tax forms, it might be a good idea to tackle the math soon." Bierbauer then reported: "When you get to the bottom line of your 1997 tax return, it should make you happier. But getting there won't."
Bierbauer told viewers that "last year the IRS found half of tax filers sought professional help. Many were low-income working families who now must figure the child credit into their complicated formula for the Earned Income Tax Credit." He also argued that "while Republicans are cheering tax cuts which stretch over a decade, they have not delivered on years of promises to reform the U.S. tax system."
"Of course if Congress were to write a simpler tax code treating everyone the same," Bierbauer concluded sharply, "it could no longer do what it has just done create special breaks for special groups of voters."
Kudos to David Bloom and Charles Bierbauer for exposing a big- government lobby that looks out for its special interests at the expense of other citizens and a tax code that increasingly benefits special interests at the expense of other citizens.

---
Home | News Division | Bozell Columns | CyberAlerts
Media Reality Check | Notable Quotables | Contact the MRC | Subscribe