What The Media Tell Americans About Free Enterprise


---

Friday, June 30, 2000

Volume 8, Number 13
Kudos... To NBC's Tim Russert
Self-designated "consumer advocate" — and newly-minted Green Party presidential nominee — Ralph Nader has been a leading cheerleader for the Justice Department's prosecution of Microsoft for anti-trust violations. "We need to build on the lessons from the Internet and stop Microsoft's efforts to transform the Internet into a private network dominated by a single, ruthless company," Nader argued in a column that was co-written by James Love, director of Nader's Consumer Project on Technology, and posted on CNN.com back in November 1998.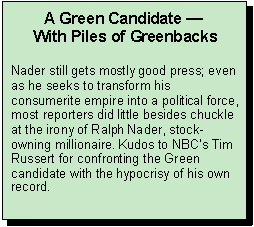 But now that he's running for President, Nader has been forced to disclose that he owns more than $1,000,000 worth of stock in Cisco Systems, a single company that has near-total domination of some important Internet infrastructures. That would appear to contradict at least one of the rules for socially-responsible investing that Nader spelled out in June 18 Washington Post interview. "Number one, they're not monopolists and number two, they don't produce land mines, napalm, weapons," Nader told the Post's Mike Allen.
On the June 25 Meet the Press, NBC's Tim Russert confronted Nader and asked him about his hefty investment in Cisco Systems. He quoted from an article by Salon's Joshua Micah Marshall entitled "Ralph Nader: Millionaire Hypocrite?" and read the following excerpt aloud:
"By many definitions the company in which Nader owns most of his stock, Cisco Systems, is a monopoly. Cisco controls a bit more than half of the overall data-networking market but has, for example, 89% of the market for high-end routers. Cisco does pursue many policies aimed at locking in its dominance of the router market and freezing out other competitors. Its market power is so great that three of its strongest competitors have simply dropped out of the running in the last year," Russert read to Nader.
"You would criticize a traditional politician for not being more aggressive against corporate America," Russert told Nader, then asking, "Why don't you speak out against Cisco, even though you have these holdings?"
Nader hedged. He allowed that he had "spoken out against Silicon Valley, which Cisco is a part," and said that if he reached the White House he'd "set up a special task force to monitor Cisco." But he refused to directly criticize either the company's business practices or sizeable market share.
Not that he necessarily should — big isn't synonymous with bad, after all. But Nader has made a very successful (and lucrative) career out of bashing big, bad business. He told the Post that his income from speeches alone has been about $200,000 to $300,000 a year for 30 years (much of which he's plowed back into his non-profit, anti-business empire), all the while earning praise from the national media for his efforts on behalf of the little guy.
Nader still gets mostly good press; even as he seeks to transform his consumerite empire into a political force, most reporters did little besides chuckle at the irony of Ralph Nader, stock-owning millionaire. Kudos to NBC's Tim Russert for confronting the Green candidate with the hypocrisy of his own record.

---
Home | News Division | Bozell Columns | CyberAlerts
Media Reality Check | Notable Quotables | Contact the MRC | Subscribe