What The Media Tell Americans About Free Enterprise


---

Friday, March 10, 2000

Volume 8, Number 5
"Nothing redeemable about Wall Street"
NBC's Law & Order Presents Biased View of the Stock Market
NBC's Law & Order, a gritty police and legal drama set in New York City, advertises the fact that it often presents cases "ripped from the headlines" — dramatic episodes based on current news topics. The stock market, particularly the remarkable performance of many Internet and technology stocks, has been a frequent topic of recent newscasts, as the nearly half of all households who own shares of stock have seen their portfolio values rise dramatically over the past several years.
But in a recent episode of the Wednesday night program, the writers seemed intent on presenting the market as a risky and terrifying place. The stock market itself was portrayed as a gambling casino rigged by insiders, while brokers were shown as coldly calculating greed machines who bilk customers with "pump and dump" Internet stock frauds.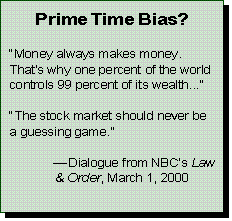 As my colleague Brent Baker has written, Law & Order producer Dick Wolf has in the past used his program as a forum to advance several liberal positions, including gun control themes and thinly veiled attacks on Independent Counsel Kenneth Starr. In the episode that aired on March 1, Law & Order went after Wall Street, as several of the characters were given lines that evoked themes of class warfare or were designed to portray brokers as manipulative and corrupt.
For example, the first scene of the show depicted a fictional broker trying to persuade a woman to buy stock she obviously doesn't want. He assures her over the phone that it is a "sweet deal." After a pause, he admits, "Last week's deal was very sweet, too, but this one we're only offering to a few very special clients, Mrs. Skolnick," emphasizing the word "special" and pausing at the end so he can look up her name on his computer monitor. This particular character was uninvolved in the ensuing crime story, so the scene was an apparent attempt to show how sleazy ordinary brokers are. His hard sell is interrupted by the sound of gun shots, and he emerges from his office to see one of his colleagues collapse and die.
The victim in this story is Shawn Alvarez, a young broker who worked at Braddock and Todd, a fictional New York brokerage firm. As detectives Lennie Briscoe and Edward Green begin investigating the murder, they talk to another young broker, Randy Cush, who was a friend of Shawn. Randy tells the detectives that he and Shawn both "thought it was never too early to establish alliances." Detective Green seems astonished. "Alliances? Sounds like a pretty ruthless place."
The alleged ruthlessness of the brokerage business is reinforced a few minutes later when the detectives return to the brokerage firm to serve a subpoena. Detective Briscoe sees a janitor scrubbing the floor where Shawn died. "Didn't waste any time with the Mop 'N' Glo," he observes. Shawn's supervisor, Bruce Valentine, responds that "Some of the brokers found the sight of blood a little unsettling."
"I'd think that around here they'd be used to it," says Green.
Randy tells the detectives that Shawn was interested in becoming a "market maker, someone like Valentine, you know, with a network of customers who could create their own market for a stock," implying that investors were easily manipulated. Randy tells them that Shawn thought the "real money" was in IPOs, or the initial public offering of a company's stock, and that Shawn told him that he and Valentine were working on "a stock called HealthRight2000.com, some medical Internet thing. Said Valentine was working a pump and dump."
"Pump and dump?" asks Briscoe, apparently unfamiliar with the term.
"Buy it, hype it, dump it," Green tells his partner. Thus enlightened about Wall Street's seamier side, the detectives investigate the stock and found that, after an initial price surge, it lost practically all of its value. Speculating that a disgruntled customer may have blamed Shawn for the financial disaster, they obtain the firm's client list and begin interviewing investors. But the two investors that the detectives questioned next were apparently written to portray the market in the most cynical possible light.
The first investor scoffs at the notion that he should be angry at Shawn. "In the great scheme of things, $30,000 really isn't a lot of money, detective."
"Yeah, I know," Briscoe acidly rejoins. "That's what I'm going to have to live on when I retire."
The second investor was bitter, blaming Shawn for failing to provide him with the inside information he needed to sell his stock at the right time. "What I needed was someone to tell me when to get out. Shawn didn't," he complains to the detectives.
"Maybe Shawn didn't know," Briscoe offers.
"Money always makes money," this investor lectures. "That's why one percent of the world controls 99 percent of its wealth."
"Are you saying Shawn had inside information?" Detective Green asks.
"The stock market should never be a guessing game," the investor responds.
After investigating several leads, the detectives find one of the firm's clients, a man named Mitchell Simms, dead of what appears to be a self-inflicted gunshot wound. Simms is later identified as Shawn's killer, but the D.A.'s office continues the investigation.
Prosecutors Jack McCoy and Abbie Carmichael find out that Simms used a margin account to trade at Braddock and Todd, and that he put a second mortgage on his home to provide collateral. Simms failed to make any mortgage payments, but the firm of Braddock and Todd mysteriously gave him $45,000 to pay off the second mortgage.
Armed with this information, McCoy and Carmichael interrogate Carl Braddock, a partner in the brokerage firm, in a scene that gives the writers a chance to directly equate investing with gambling. Braddock tells the prosecutors that he authorized the payment because Simms had complained about losing money, and that the firm was partially responsible.
"Bruce [Valentine] allowed the man to trade when he shouldn't have....Simms had a gambling problem." Braddock states. "Bruce knew it, but let Simms trade on margin anyway."
Further emphasizing the shady nature of the firm, Braddock added that "The last thing I needed was a bunch of federal regulators rehashing old trades I'd already lost money on."
When told of the firm's payment to its disgruntled client, District Attorney Adam Schiff snorts, "A benevolent broker. Where were these people in '87?"
Further investigation by the D.A.'s office reveals that Bruce Valentine had used his firm's resources to create several phony Internet companies, and then cashed in by hyping each stock in Internet chat rooms as it went public. Worried that his protege, Shawn, knew too much, Valentine coerced Mitchell Simms to kill the young broker, and then Valentine himself killed Simms and staged the suicide scene. After a sensational courtroom confrontation, the jury convicted Valentine of both murders.
The final scene provided one last swipe at real-life investors. Jack McCoy was working at his desk when District Attorney Schiff entered the room. "The jury gave Valentine the death penalty," McCoy tells him. "They were out for less than an hour."
"Nothing redeemable about Wall Street," Schiff responds with a sigh.
Obviously, Law & Order is a fictional program, and its producers and writers can take dramatic license with the facts in order to create an interesting story. But a compelling drama can be far more persuasive than any news report, as its biases are directed more towards viewers' emotions than their reason. And Hollywood's notion that most businessmen are corrupt has been reinforced by repetition over the years. As Timothy Lamer and Alice Lynn O'Steen pointed out in Special Report for MRC's Free Market Project, TV routinely portrays businessmen as crooks and ignores the positive effects of business activity.
"If confronted with research proving that prime time television was portraying teachers or social workers negatively, is there any doubt that scriptwriters and executives would take action to address these biases?" they asked. It's a good question, and one made all the more relevant by TV's continuing effort to portray businessmen as bad guys.

---
Home | News Division | Bozell Columns | CyberAlerts
Media Reality Check | Notable Quotables | Contact the MRC | Subscribe