What The Media Tell Americans About Free Enterprise


---

Friday, May 5, 2000

Volume 8, Number 9
CBSís Ray Brady, Always the Bear
May 3, 2000 marked the final appearance of longtime CBS News Economics Correspondent Ray Brady, who is retiring. Bradyís first report aired back in 1977, when the CBS Evening News was anchored by Walter Cronkite. In the nearly quarter century that Brady tracked the economy, inflation has been tamed, unemployment has been reduced to record low levels, growth has been robust, productivity has reached new heights, technology has re-invented the workplace, the stock market has soared, and Americans continue to enjoy the highest living standards in the entire world.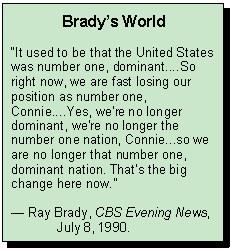 As these events unfolded, Brady consistently focused on bad economic news. Indeed, his pessimism was so pronounced (he once used a cemetery as a backdrop for a story about the stock market), the Media Research Center featured him in a MediaWatch study, "Bad News Brady," back in September 1990. Although his appearances on the Evening News have become more infrequent in recent years, he steadfastly maintained his gloomy outlook.
More than eleven years ago, on March 10, 1989, Brady found something wrong with low unemployment rates. "With 289,000 new jobs created last month alone, many employers are having trouble finding workers.... Rising wages for scarce workers could add fuel to an inflation rate thatís already heating up." Needless to say, inflation has been pretty tame in the eleven years that followed that remark.
This year, he was still distressed at the nationís unemployment rate, which has gotten even lower than when he grumbled back in Ď89. "At Americaís restaurants, theyíre feeling those low unemployment numbers," Brady reported on February 4, 2000. "Waiters, waitresses, even chefs are hard to find. And thereís an added price: consumers are feeling the shortage too. Ask Mike McConnell. He and his family waited for over an hour at TGI Fridayís in St. Louis." Will the storm clouds ever lift?
-- Rich Noyes
---
Some other notable Brady quotes from the past decade, culled from the MRCís files:
Weíre Losers:
"It used to be that the United States was number one, dominant....So right now, we are fast losing our position as number one, Connie....Yes, weíre no longer dominant, we're no longer the number one nation, Connie...so we are no longer that number one, dominant nation. Thatís the big change here now." ó Brady on the CBS Evening News, July 8, 1990.
Economic Glory Years of the '70s?
"Adjusted for inflation, average hourly earnings show a startling picture. Income growth has been trending down for more than a decade...It wasnít always like this. There were glory years for the American paycheck, from 1947-1979, with the peak hitting in 1973...The U.S. economy shows some signs it may be perking up. Experts say, though, that it would have to continue for at least 2 or 3 years before the American paycheck could start returning to the glory years of the 1970s." ó Brady on the CBS Evening News, October 29, 1993.
Fearful of Tax Cuts
"This is not the time to be cutting taxes. What you want to do is if the economy gets in a real jam, that's when you want to cut taxes, to give people spending power. They should let the tax cut go for now, use that money to really get that deficit down. That would be the best thing for the country....Given the fact that next year is an election year, I don't think it's too likely that they will pass on that tax cut. I'm afraid we will see it." ó Brady on CBS Sunday Morning, May 21, 1995.
Donít Trim the Fat
"Hear that? Itís the sound of Wall Street making money. But is this activity here [at the stock exchange] causing activity here in the nationís jobless centers?...Come to any job center, where laid off middle managers scramble desperately for work. Corporate America announced more than 41,000 layoffs last month alone, up 45 percent over the same month a year ago." ó Brady on the CBS Evening News, December 26, 1995.

---
Home | News Division | Bozell Columns | CyberAlerts
Media Reality Check | Notable Quotables | Contact the MRC | Subscribe