What The Media Tell Americans About Free Enterprise


---

Wednesday, December 6, 2000

Volume 8, Number 24
NBC's Today Again Promotes
Wacky Tree-Climbing Activist
According to the National Christmas Tree Association, 36 million American homes will be adorned with a real Christmas tree this December. It's probably just a matter of time before NBC's Matt Lauer sits down with Julia "Butterfly" Hill to rue this mass Yuletide slaughter.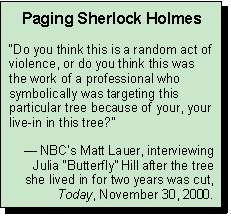 Hill achieved celebrity status for depositing herself atop a giant redwood tree in northern California for two years, with volunteers hoisting food and other necessities up to her using ropes and pulleys. It was a stunt designed to block lumbermen from the Pacific Lumber Company from harvesting the tree, which the company owned. The protest ended in December, 1999, when Hill agreed to pay Pacific Lumber $50,000 obtained from royalties, T-shirt sales, and donations; the company promised it wouldn't cut down the tree, which Hill calls "Luna," or other trees within a 200 foot radius.
Some regard Hill as a ludicrous figure; after she descended from her perch, a wireless company called OmniSky put out an ad featuring a grungy tree-living woman who used OmniSky technology to contact someone who could come to the woods and wash her with a big soapy sponge. Hill sued. "The very concept [of the ad] degrades the sacrifices Ms. Hill has made to further the cause of protecting old growth forests," her lawyers humorlessly stated in their complaint.
But the gang at NBC's Today has never giggled about Hill's cause. Instead, they have promoted her and her views on at least three occasions, most recently a lengthy segment on November 30 when host Matt Lauer seemed extraordinarily troubled by the fact that someone used a chain saw to anonymously cut into the redwood, which the NBC star also referred to as "Luna."
Lauer seemed overwrought by the tree's plight. "I know this is not the interview you wanted to do with me," he sympathetically told Hill before inquiring, "You went and saw Luna. How hard was that for you?"
Continuing to refer to the redwood tree as if it were a sick person instead of a hardy evergreen, Lauer asked, "What's the condition of Luna? And what are people doing to save it?" While he was talking to Hill in the studio, Today showed previously-taped footage of her loudly weeping at the base of the cut tree. Lauer also raised the specter of an axe-wielding assassin: "Do you think this is a random act of violence, or do you think this was the work of a professional who symbolically was targeting this particular tree because of your, your live-in in this tree?"
Today also gave Hill the chance to slam, in her words, "those who believe that jobs are more important than protecting biodiversity and old growth forests and ecosystems," and to smear a business as corrupt: "Companies like Pacific Lumber Maxxam Corporation violate the law right and left. They violated the law over 300 times in three years and continue to get violations." No one from Pacific Lumber — a company which has helped preserve thousands of acres of redwood forest — was given a chance to respond, although Lauer did ask if Hill meant to blame the lumber company for cutting the celebrity redwood.
"I'm not alleging anyone who did this," Hill blithely responded.
The point of all of this, of course, is to get audiences to applaud the grit and determination of activists from the most radical fringes of the environmental movement, while their views are protected from serious cross-examination. Yet these fringe players have proven themselves unrelentingly hostile to industrial activity and economic development. They regard human beings as little more than a cancer on planet Earth, which would otherwise be a utopia for a diverse array of plants and animals. Over the past year, all of the networks implicitly or explicitly cast Hill as a heroine because of the extent of her personal sacrifice, but never offered an even-handed examination of her philosophy — namely, that jobs and the well-being of human beings are lower priorities than "biodiversity."
ABC, for example, saluted Hill in its Planet Earth 2000 special which aired on Earth Day, April 26. Reporter Chris Cuomo called her "the stubborn woman in the tree," who he suggested was secretly "admired" by some employees of Pacific Lumber. "Now Julia travels across the country," Cuomo related, putting Hill on a first-name basis with his audience, "telling her story of personal power and responsibility....the woman who nourished a small deed and watched it grow over 200 feet tall."
Today has been an especially sympathetic forum for Hill. Last April, she was also interviewed by Lauer, who went out of his way to "remind people that you never went up in that tree intending to spend over two years up there; you thought maybe a month. And you also don't like to be associated or, or labeled as one of those kind of granola-crunching hippie types who does this thing all the time." After her late November appearance, Today's web site directed viewers to the Circle of Life Foundation site, where they could give money to the "Luna Preservation Endowment."
Imagine Today giving viewers instructions on how they could send donations to conservative, free-market foundations.
During the recently-concluded campaign season, the networks went out of their way to resist covering what they considered manufactured news events, i.e., events which were constructed merely for the sake of attracting reporters and which, in the absence of media attention, would not have existed. CBS's Dan Rather, for example, even went so far as to blast both the Republican and Democratic nominating conventions as infomercials; "Popeil politics," he sneeringly labeled them in honor of Ron Popeil, who has sold millions of rotisserie barbecues and inside-the-egg scramblers on TV.
When Julia Hill climbed Luna, she and her supporters created a made-for-TV event, and a sympathetic media helped her win her goal of saving a single, elderly redwood. But her unremittingly hostile view of both the lumber company and anyone else who sees value in jobs and human well-being is a long way from even what most liberals think — and Today should know better than ruin viewers' mornings with a seriously one-sided presentation of such laughable ideas.

---
Home | News Division | Bozell Columns | CyberAlerts
Media Reality Check | Notable Quotables | Contact the MRC | Subscribe