What The Media Tell Americans About Free Enterprise


---

Thursday, January 11, 2001

Volume 9, Number 1
Shriveling Network News Shows
Shocked By Shrinking Snack Chip Bags!
It's not exactly arms to the Ayatollah or nuclear secrets to the Chinese, but all of the broadcast networks pounced on a January 2, 2001 New York Times story revealing that, among other salacious tidbits, Tostitos snack chips now come in a 13˝ ounce bags which cost the same ($3.29) but contain six or seven fewer chips than the old 14˝ ounce bags. The front-page Times article by Greg Winter related how some manufacturers, faced with increased production costs, have switched to smaller packages as an alternative to direct price hikes.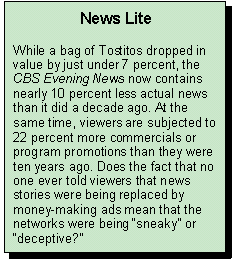 Network sleuths, tipped off by the Times, acted as if they had uncovered a scandal and quickly branded the surreptitious downsizing of the snack food containers as duplicitous. But those same networks have been quietly trimming the news content of their own evening news programs for years, with more and more valuable seconds of airtime devoted to advertising and promotion.
"When Tostitos recently reduced the amount of corn chips by one ounce, they also made the bag smaller," ABC's Bill Redeker indignantly informed his audience on the January 2 edition of World News Tonight. "Consumer advocates say this borders on deception....[and] some consumers feel taken advantage of."
"While you weren't watching, the contents of that package of your favorite food or drink — even diapers — have shrunk, but the price has remained the same," griped NBC's Brian Williams that same evening.
All of the reporters indicated there was something under-handed about the practice, that manufacturers were trying to put one over on customers. "Shaving an ounce worth of chips from each bag is an example of how food manufacturers offset increased production costs without raising the radar of price-conscience shoppers," alerted CBS's Cynthia Bowers.
NBC's Robert Hager went to the grocery store and sought out irritable customers. "When Nellie Otima buys diapers for her seven-month old, she's angry," he reported. "Suddenly getting less for her money — manufacturers quietly reduced the number in each package without reducing the price nearly as much....It's called 'down-counting,' putting less content in a package, a way of making money without seeming to."
The next morning, both NBC and CBS showcased experts who condemned the business practice. The Early Show's Julie Chen wondered if businesses were really allowed to set their own prices. "I'm getting less chips [but] paying the same amount of money," she asked, "Is that legal for them to do this?"
"It is not illegal. It is deceptive," Carol Tucker Foreman of the Consumer Federation of America told Chen. "It was intended to deceive the consumer. The company hoped you wouldn't notice, that it would slip by their customers. You know, it's a really bad bet in today's society — the New York Times will report it, CBS News will report it."
"It's not illegal, but it's a little bit sneaky," echoed industry analyst Emmanuel Goldman in a packaged piece narrated by Hager on Today.
As presumably all shoppers know, the weight is printed on each bag of chips or box of Cracker Jack, and the number of diapers is displayed on the outer carton. So it's tough to see what is so misleading about changing the packaging as long as the label accurately reflects the contents. It is true that customers receive less value for their dollar, but that would be equally true if the package remained the same and the prices were increased — unit costs would rise in either case.
Of course, these same networks showed no special regard for consumers as they "down-counted" their own evening newscasts over the past several years. Indeed, MediaNomics took a stopwatch to the January 2, 2001 edition of the CBS Evening News, the one in which Bowers rued the fact that chip bags now contain fewer chips. That broadcast offered precisely 18 minutes and 44 seconds of news, after commercials and promos for other CBS programs are excluded. The CBS Evening News broadcast from exactly ten years earlier, January 2, 1991, contained 20 minutes 46 seconds of news, calculated using the same rules.
In other words, while CBS grumbles that a bag of Tostitos has dropped in value by just under 7 percent, the CBS Evening News now contains nearly 10 percent less actual news than it did a decade ago. At the same time, viewers are subjected to 22 percent more commercials or program promotions than they were ten years ago. Does the fact that no one ever told viewers that news stories were being replaced by money-making ads mean that the networks were being "sneaky" or "deceptive?"
Here's what news viewers are getting instead of news: At the conclusion of the 2001 broadcast, substitute anchor John Roberts played a lengthy promotion for that night's edition of 60 Minutes II, and two of the ads played during commercial breaks were pitches for upcoming CBS News programs, including a plea for viewers to tune into the next morning's Early Show for "the secrets of Survivor II" — which amounts to a commercial for a commercial.
Viewers were also bombarded with ads for 19 different commercial products: NyQuil cold medicine, Olay daily facials, Ensure dietary supplements, Phillips milk of magnesia, Just2Good reduced fat salad dressing, Gateway digital cameras, Refresh eye drops, Tamiflu flu medicine, Beltone hearing aids, AFLAC supplemental insurance, Staples office supplies, One-A-Day vitamins, Caltrate calcium and soy supplements, Preparation H, Prempro estrogen replacement, Disney World, Coricidin — a cold remedy for individuals with high blood pressure, Wisk laundry tablets, and Zantac 75 acid reducer.
TV journalists love to promote themselves as among the true champions of the average American, while the remainder of the corporate landscape is focused on grubbier issues such as maximizing revenue, increasing sales, niche marketing, and self-promotion. In fact, television news is as profit-driven as any other business, so their antagonistic attitude towards businessmen who provide consumers with desired goods and services at a fair price is inherently contradictory, if not hypocritical.
On the other hand, given that the evening news in recent years has offered a fairly steady diet of news skewed against conservatives and the free market, the fact that it has shrunk by a tenth may not be all that bad.

---
Home | News Division | Bozell Columns | CyberAlerts
Media Reality Check | Notable Quotables | Contact the MRC | Subscribe