What The Media Tell Americans About Free Enterprise


---

Thursday, January 11, 2001

Volume 9, Number 1
Journalists Blame "Deregulation" for California Shortages, But Electricity Rules Are Plentiful
As winter has settled over the nation, it has become a media mantra: the current crisis in California is the result of the stateís deregulation of the electric power industry. The implication, of course, is that the powerful and uncaring forces of the free market have been loosed to wreak havoc on citizens who now lack governmentís "protection." And, with many other states at various stages of deregulation, some journalists seem to think that what is now a regional crisis could soon be a national one. After blaming deregulation "in part" for Californiaís troubles, Dan Rather warned viewers of the January 4 CBS Evening News that "residents of many other states could be next."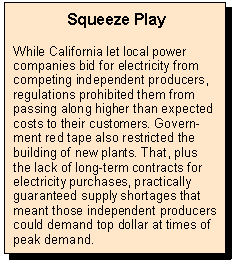 CBS correspondent John Blackstone then discussed the mounting costs of a California dairy farmer who uses electric milking machines. Declared Blackstone: "Blame it on deregulation, an experiment state officials once embraced, but now wish they could end....Consumer advocates say Californiaís dismal experience provides a powerful warning to 25 other states moving toward deregulation."
But as Washington Post business writer Peter Behr explained in a January 9 article, California officials left in place many regulations that have effectively undermined the promised benefits of a free market system, and he contrasted the California experiment with the deregulation program, pushed by then-Gov. George W. Bush and the state legislature, that will take effect in Texas in about six months.
"California, whose system depended on competition among independent electric power generators, has not had a major new power plant built in a decade, largely because of the stateís stringent environmental and siting regulations," Behr wrote. "By contrast, Texas is awash in power plants, and more are being built."
"Furthermore," Behr continued, "California has attempted to shield consumers from price rises with a complex, sometimes conflicting set of price controls. The system has brought two major utilities close to insolvency because they cannot pass $11 billion in higher energy costs on to customers....Under Texasís plan, electricity rates can go up twice a year to reflect higher costs for producing power, including higher [natural] gas costs."
In other words, while California let local power companies bid for electricity from competing independent producers, regulations prohibited them from passing along higher than expected costs to their customers. Government red tape also restricted the building of new plants. That, coupled with the lack of long-term contracts for electricity purchases, practically guaranteed supply shortages that meant those independent producers could demand top dollar at times of peak demand.
Thus, the mediaís condemnation of "deregulation" is simplistic and inaccurate. As Investorís Business Dailyís Charles Oliver reported January 8, "many economists say deregulation isnít to blame because the state never deregulated," Oliver wrote. "The real problem, they say, is the complex rules that govern the stateís power system. These rules drive up the cost of electricity and make it hard to add capacity when things are tight."
Yet despite the fact that economists wonít call Californiaís experiment "deregulation," the media donít call it anything else. On CNNís Morning News on January 9, for example, reporter Greg LaMotte asserted that "deregulation...has become a political nightmare." But if states such as Texas manage to deregulate their electrical power industries in a way that benefits consumers, will those same reporters be ready to declare deregulation "a political dream come true?" Donít count on it.

---
Home | News Division | Bozell Columns | CyberAlerts
Media Reality Check | Notable Quotables | Contact the MRC | Subscribe