What The Media Tell Americans About Free Enterprise


---

Thursday, January 11, 2001

Volume 9, Number 1
Media Spin Bush Tax Cut As Huge and Ineffective
Back on December 21, all of the networks highlighted how Gene Sperling and other Clinton operatives were blaming George W. Bush for allegedly creating a recession by pointing to the slowdown in manufacturing and other weak spots in the economy. But after the Federal Reserve's Open Market Committee cut rates by a half percent on January 3, ABC, CBS and NBC refused to call it vindication of Bush's warning. Instead, journalists pushed the idea that Fed Chairman Alan Greenspan had acted to undermine the pitch for Bush's tax reduction program and that tax relief wouldn't matter in the current economic climate. At the same time, the networks continued to represent the proposed tax cut as either "big" or "huge" — an insupportable statement if the tax cut is placed in its proper context.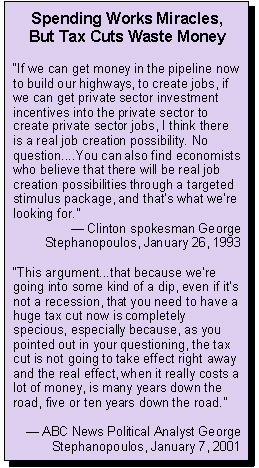 Anchor Brian Williams, on the January 3 NBC Nightly News, acknowledged that "Bush has warned of a recession on the way and still wants to see his big tax cut enacted." From Bush's economic summit David Gregory noted how they "toasted" the interest rate cut, adding: "Bush and his corporate allies, eager to see his huge tax cut enacted, argued strenuously today that much more is needed to save the economy from a free fall."
On World News Tonight, ABC's Terry Moran noted that "Mr. Bush made clear he will now push even harder for his big tax cut." CBS's Dan Rather also labeled the tax cut as "big," remarking that Bush "believes the Fed just gave him some new ammunition for his battle to get a big tax cut through Congress."
But CBS's John Roberts then tried to argue that Bush would be wrong if he thought the Fed favored lower tax rates. Roberts asserted there is a "fundamental difference between Bush and Greenspan over how best to spur economic growth, from cutting interest rates or cutting taxes."
Actually, as has been widely reported, Greenspan has said he that although he would prefer that the surplus was used to reduce federal debt, he agrees with Bush that tax cuts are far more desirable than the new increases in federal spending that many liberals propose.
On the weekend discussion shows, two former Democratic administration officials who are now media commentators lobbied against the tax cut. Former Carter administration official Margaret Carlson, now with Time, appeared on the January 6 edition of CNN's Capital Gang and advocated that Bush adopt defeated Democrat Al Gore's positions: "He should signal that he wants to raise the minimum wage. It's one way to counteract the effect of this huge tax cut he's pushing which goes to the wealthy."
The next morning on This Week, ABC's George Stephanopoulos — the same Stephanopoulos who claimed back in '93 that Bill Clinton's relatively puny $31 billion "stimulus" spending plan would work immediate miracles on the economy [see box] — lectured that "this argument...that because we're going into some kind of a dip, even if it's not a recession, that you need to have a huge tax cut now is completely specious, especially because, as you pointed out in your questioning, the tax cut is not going to take effect right away and the real effect, when it really costs a lot of money, is many years down the road, five or ten years down the road. It was interesting when [Bush economic advisor Lawrence] Lindsay said we might then speed up the tax cuts. That means it's going to cost even more, far more than the $1.3 trillion they're talking about."
For the record, President Clinton announced in late December that ten-year projections for the budget surplus now total $4.996 trillion, according to the New York Times. That's $803 billion more than the administration's late June calculation of $4.193 trillion, which was itself $1.275 trillion higher than the ten-year estimate before that. As these numbers show, it's more likely that future surpluses have been underestimated by government economists, not overestimated as many in the media continually fret.
Additionally, the $1.3 trillion tax cut — which Bush had planned for in his budget before Clinton's budget office added $2.078 trillion to the surplus — is neither big nor huge, according to statistics compiled by the National Taxpayers Union (NTU). According to the NTU, Bush's total tax cut amounts to only 0.9% of total GDP. In contrast, Ronald Reagan's 1981 tax cut represented 3.3% of GDP, and even Democratic President John F. Kennedy's tax cut — proposed in 1963 and passed in 1964 — was 2.0% of GDP.
Noting that journalists have, for 13 months, consistently tagged Bush's program as either "big" or "huge," Investor's Business Daily editorialized on January 8 that "the idea was to make the cut...seem bigger than it is. But by overstating its size, they're making the implicit admission that it's not that big to start with. Each day the media hammer Bush's tax cut, they're sounding more and more desperate."
And, by dwelling on the estimated "costs" of the tax cut, the media are feeding the notion that tax cuts work like spending and that Bush needs to avoid busting the budget. But, as economist Arthur Laffer argued in a Wall Street Journal column published on January 8, that's not the way the real world works.
"When tax rates change, the one thing you can count on is that people will change their behavior. Lower tax rates mean more taxable income, and more taxable income means less revenue shortfall. It's my guess that Mr. Bush's tax-rate cuts will help secure the $3 trillion Social Security surplus and not come near the $2 trillion cost Sen. Daschle claims," Laffer wrote. "But there's nothing that will eat that surplus up faster than a bad economy, with lower incomes, higher unemployment and earlier retirements."
Most in the media have apparently adopted Clinton's view that the surplus is like fine china, and must be safely locked away. But if Laffer's right, the worst thing that the defenders of the surplus could do is block efforts to boost the ailing economy by giving taxpayers back a portion of their own money.

---
Home | News Division | Bozell Columns | CyberAlerts
Media Reality Check | Notable Quotables | Contact the MRC | Subscribe