Roasting the Most Outrageously Biased Liberal Reporters of 2002
Thursday, March 27, 2003
The Omni Shoreham Hotel
---
Ticket Information | Special Guest | Directions | Participants | Sponsors |
Congressional Host Committee Members
It's usually the national liberal media savaging conservatives...
but on this night we get even!
Complete the form, print and send to Media Research Center

Join the Media Research Center and the conservative movement's finest as we roast the year's most blatantly liberal members of the national "news" media.

This year's Categories:
Ozzy Osbourne Award (for the Wackiest Comment of the Year)
I Hate You Conservatives Award
Ashamed of the Red, White, and Blue Award
And They Called It Puppy Love Award
I'm Not a Geopolitical Genius But I Play One on TV Award
Quote of the Year
Featuring a Private Concert by:
The Charlie Daniels Band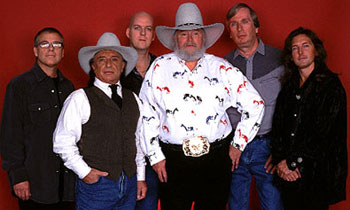 Why the Charlie Daniels Band?
"...please try to realize that when you see news coverage [of Guantanamo Bay, Cuba] much of the time you're not getting the whole story, but an account filtered through a liberal mindset with an agenda...It's a shame that we can't have an unbiased media who would just report the truth and let us make up our own minds..." -- Charlie Daniels
For more on the Charlie Daniels Band
See their website

---
---

---

---
Table Sponsorship Levels
Platinum Sponsors - $25,000
Gold Sponsors - $15,000
Silver Sponsors - $5,000
Bronze Sponsors - $1,500
Table Sponsorship Benefits
Associations, corporations, foundations, and individuals supporting the MRC's Third Annual Dishonors Awards Dinner by reserving a table of ten have the opportunity to receive several benefits including:
Invitation to attend a private Briefing and Luncheon on March 27th from 9:00 a.m. to 12:00 noon


Tickets to the VIP Reception and Photo-Op


Listing on VIP Reception Signage


Sponsorship Recognition in the Dinner Program


Opportunity to receive exclusive newsletters and publications throughout the year, including Flash, Notable Quotables and Special Reports


Recognition at the Dinner by Brent Bozell / Master of Ceremonies
For more information about Table Sponsorship Level and Benefits,
please contact Heather Madden at 703-683-9733, ext. 145
or via e-mail at hmadden@MediaResearch.org

---
From Dulles International Airport
Take the Dulles Airport Toll Road to Route 66 East. Proceed East on Route 66. After crossing the Roosevelt Bridge and entering Washington, DC, exit onto Constitution Avenue. Stay on Constitution then make a left onto 18th Street. Then make a left onto Connecticut Ave. You will go through an underpass under Dupont Circle. After you pass the Hilton on your right, you will go another 1 mile, crossing over the Taft Bridge and Rock Creek Park. At the end of the bridge, make a left onto Calvert Street. The Omni Shoreham Hotel will be on your left at 2500 Calvert Street, NW.
Alternative transportation methods from Dulles international Airport:
Take Super Shuttle available at Ground Transportation Level directly to the hotel.


From Reagan National Airport:
Follow George Washington Pkwy. northbound to D.C.; Continue past the Pentagon to the Memorial Bridge; While on the Bridge merge into right lane and exit at Independence Dr.; Follow Independence Dr. back under the bridge along the Potomac River (this becomes Rock Pkwy.); Merge into left lane; Road splits after passing under Bridge, merge left; Road splits again, continue to merge left; First traffic light is Calvert Street; Turn left onto Calvert Street; Hotel is located on the left.
Alternative transportation methods from Reagan National Airport:
Take the metro (yellow line in the direction of Mount Vernon Square) to Gallery Place/Chinatown. Change to the red line in the direction of Shady Grove. Take red line to Woodley Park/Zoo/Adams Morgan stop. Hotel is located half a block from the metro.


From Baltimore/Washington International Airport:
Proceed through the airport and follow the signs for I-95 South. Take 495 West towards Silver Spring to Exit 33 (Connecticut Avenue South) towards Washington, DC. Proceed South on Connecticut Avenue for approximately five miles. The National Zoo will be on your left. Proceed another five blocks and make a right onto Calvert Street. The Omni Shoreham Hotel will on your left at 2500 Calvert Street, NW.
Alternative transportation methods from BWI Airport:
Take the free shuttle from the Airport to BWI Rail Station and take either the AMTRAK/MARC train to Union Station. Once at Union Station take the metro (red line in the direction of Shady Grove) to Woodley Park/Zoo/Adams Morgan Stop. Hotel is located half a block from the metro.
See The Omni Shoreham Hotel's website for map and additional driving directions.
Thank you for your support!
We look forward to seeing you at this year's Dishonors Awards!
Questions?
Email Sue Engle at sengle@mediaresearch.org

---
Home | News Division | Bozell Columns | CyberAlerts
Media Reality Check | Notable Quotables | Contact the MRC | Subscribe