FOR IMMEDIATE RELEASE
September 11, 1997
FOR MORE INFORMATION CONTACT:
Keith Appell/Bill Cimino (703)-683-5004
---
As Susan Molinari Debuts This Weekend:
Revolving Door Spins Ever Leftward
Latest Numbers Show Liberals/Democrats Outnumber Conservatives/Republicans In The Media By Almost 4-1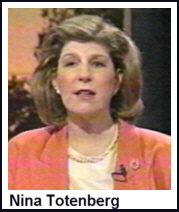 "It sends the message that there's no such thing as journalism anymore" - National Public Radio's Mara Liasson, complaining about Susan Molinari's new job at CBS News, Fox News Sunday, 6/1/1997.
"This really makes me want to puke" - National Public Radio's Nina Totenberg, expressing similar outrage, Inside Washington, WUSA-TV, 5/31/1997.
ALEXANDRIA, Va. --- Anticipating another round of media outrage over former Republican Congresswoman Susan Molinari's CBS debut as a news anchor this weekend, the Media Research Center is releasing the latest numbers on the "Revolving Door," political figures in the news media. Liberals/Democrats number 323, Conservatives/Republicans number just 83, a four to one advantage.
"It's truly laughable that some reporters are proclaiming the end of journalism because Susan Molinari has joined their profession when the industry is littered with four times as many liberals and Democrats. If Ms. Molinari's critics are right to complain about her, then the end of journalism came and went a long time ago," said Brent Bozell, Chairman of the Media Research Center.
Prominent Revolvers (Democratic Politics To Media)
RICK KAPLAN - Informal Clinton adviser during the 1992 presidential campaign and Lincoln bedroom guest was recently named president of CNN. According to this week's issue of U.S. News & World Report Kaplan has already "raised a few eyebrows by telling CNN staffers to limit their use of the word scandal in reporting on Clinton's campaign fund raising woes."
DOTTY LYNCH - CBS Political Editor overseeing all of the network's political coverage directed polling for George McGovern, Jimmy Carter, Ted Kennedy, the Democratic National Committee and the 1984 Mondale for President campaign, all before joining CBS in 1985.
JEFF GRALNICK - Now oversees ABCNews.com website, was executive producer of NBC Nightly News from 1993-96, was also press secretary to George McGovern.
JAMES FALLOWS - Named editor of U.S. News & World Report in fall 1996, was chief speechwriter for President Carter.
Prominent Revolvers (Media To Clinton Administration)
STROBE TALBOTT - Currently Deputy Secretary of State (and before that, Ambassador-at-Large to the former Soviet Republics), previously employed at Time magazine as editor-at-large and Washington bureau chief.
CARL STERN - Director of Public Affairs for the Clinton Justice Department 1993-96, previously employed as NBC News Washington (legal) correspondent.
THOMAS ROSS - Special Assistant to President Clinton and Senior Director for Public Affairs at the National Security Council 1994-95, previously employed as Senior Vice President, NBC News.
RICK INDERFURTH - Assistant Secretary of State for Southeast Asian Affairs, previously employed by ABC News as a national correspondent and a Moscow correspondent.
KATHLEEN DE LASKI - Chief Public Affairs Officer, Department of Defense, 1993-94, was previously employed by ABC News as a national correspondent.
DAVID FRENCH - Deputy Director of Communications at the CIA, previously employed as a Washington correspondent and weekend anchor, CNN.
SPECIAL BACK-AND-FORTH-AND-BACK-AND-FORTH CATEGORY STATUS
TARA SONENSHINE - A producer for ABC News Nightline until 1994, Sonenshine went to work for Clinton's National Security Council. Then she left the NSC to work for Newsweek magazine through 1996, and now she's back at the NSC "identifying foreign policy priorities" according to the Washington Post.

Media Interviews
To schedule an interview with Mr. Bozell or other MRC spokesmen, and to get information about the Revolving Door, contact Bill Cimino or Keith Appell at (703)-683-5004.
---
Home | News Division | Bozell Columns | CyberAlerts
Media Reality Check | Notable Quotables | Contact the MRC | Subscribe