FOR IMMEDIATE RELEASE
June 9, 1998
FOR MORE INFORMATION CONTACT:
BOB ADAMS/KEITH APPELL (703)-683-5004
---
In National Review Cover Story:
MRC Analysts Reveal That Real Network News is Dead
Whether Frivolous And Entertainment Driven, Or Biased
Toward The Left, There Is No More "Journalism" On TV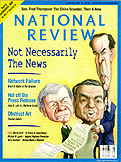 ALEXANDRIA, Va. --- Frivolous or biased. Either way, network television news no longer produces what used to be "journalism" for the American people. So write Media Research Center Vice President Brent Baker and Director of Media Analysis Tim Graham in the cover story for the June 22nd issue of National Review.
"On May 15, the New York Times reported that Johnny Chung told investigators that part of the almost $100,000 he gave Democrats in the summer of 1996 came not just from Communist China but from the People's Liberation Army. It was a blockbuster story, confirming what had been the most sensational possibility when Asiagate first broke back in 1996," write Baker and Graham. "But none of the three network morning shows touched the story, devoting the majority of their air time to the death of Frank Sinatra."
They note how even the most expansive of network news segments focus on lifestyle driven "ratings grabbers" instead of hard news that has true impact on the country.
"The primary building blocks of TV news shows today are packages - 'A Closer Look" on ABC, 'In Depth' on NBC, 'Eye on America' on CBS - devoted to themes such as the joys of Viagra, the fat content of French fries, or the latest gale of El Nino. ... Segments like these used to focus almost exclusively on serious policy issues concerning health and welfare, education, and the environment. Now they're more likely to report on male pattern baldness or the flaw in new diet drugs," write Baker and Graham.
Baker and Graham point out the deep demise of the Public Broadcasting Service ("originally created to counter the networks' commercialism"), which chose to ignore congressional hearings into the China/Democratic National Committee connection. PBS "decided that Barney and Big Bird and Arthur the Aardvark were too important to be interrupted by Senate hearings."
Ellen Hume, head of PBS's "Democracy Project": "A commitment to such open-ended coverage, including the House hearings which have not even started yet, was not a realistic option for PBS. ... Today families rely on PBS's children's programming during the day, particularly when school is out during the summer."
When the entertainment-driven network news shows do attempt to do some real news, the liberal bias of those producing and reporting it render it meaningless. Coverage of the Clinton-Lewinsky scandal is a perfect example.
"Just three days after the Lewinsky affair broke," write Baker and Graham, "ABC was focusing on the media's 'overcoverage.' CNN, with Clinton buddy Rick Kaplan at the helm, flayed the rest of the media - not for failing to cover the earlier stories but for covering this one - in a two-hour special. PBS's NewsHour with Jim Lehrer and the other network news shows followed suit. Then, having concluded that they themselves had gone too far, the media decided that Ken Starr had too."
The contrast between coverage of Independent Counsel Lawrence Walsh's investigation of Iran-Contra and Starr's investigation of Clinton is especially telling.
"The networks trotted out polls asking: Has Starr gone too far? By contrast, of course, when Iran-Contra prosecutor Lawrence Walsh indicted Caspar Weinberger four days before the 1992 election, there was a barrage of media commentary pointing out how the indictment would hurt the Bush campaign, but the networks didn't even mention Walsh's name," write Baker and Graham.
When it comes to matters of policy, "the same tired biases still apply." When Republicans put forward a proposal for Education Savings Accounts, CBS News anchor Dan Rather reported on President Clinton's attack on the proposal instead of the proposal, sounding more like a Democratic National Committee spokesman instead of a network news reporter.
Rather: "President Clinton today attacked a Republican proposal in Congress. This Republican proposal would let people set up education savings accounts that earn tax-free interest. The President said this GOP version benefits the rich and private schools at the expense of already decaying public schools."
Baker and Graham conclude the public can no longer get valuable news and information that affects their lives and livelihoods from the networks. The product now served up is either entertainment-driven frivolity or liberal drivel.

Media Interviews
To receive a copy of the National Review cover story, and schedule an interview with either Mr. Baker or Mr. Graham, contact Bob Adams or Keith Appell at (703)-683-5004.
---
Home | News Division | Bozell Columns | CyberAlerts
Media Reality Check | Notable Quotables | Contact the MRC | Subscribe