FOR IMMEDIATE RELEASE
October 28, 2003
FOR MORE INFORMATION CONTACT:
Katie Wright at (703) 683-5004 ext. 132
---
MRC President Brent Bozell Urges Advertisers Not To Sponsor CBS Mini-Series
"The Reagans"
"The Mini-series Has Blatantly Distorted History and Is Nothing More Than a Partisan Political Attack Against One Of America's Most Beloved Presidents"

ALEXANDRIA, Va. --- Media Research Center President Brent Bozell is sending a letter to the top 100 corporate advertisers in America today, urging them not to support the upcoming CBS mini-series "The Reagans."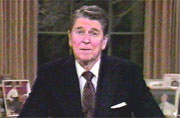 "The mini-series has blatantly distorted history and is nothing more than a partisan political attack against one of America's most beloved presidents," Bozell writes in his letter. "New York Times reporter Jim Rutenberg, one of the few people outside of CBS who has read the script, noted that the mini-series completely omitted the unprecedented economic expansion of the 1980s. That glaring oversight is not nearly as unfair, however, as the historical fictions that have been added to make the program more dramatic."
Bozell points out that the picture of Reagan emerging from the leaked copies of the script is that of a "hateful, religious zealot." This is a complete fabrication and not worthy of sponsorship – especially with the former president suffering from Alzheimer's disease.
"Widely-respected Reagan biographer Lou Cannon has flatly stated that the depiction is unfair, telling Rutenberg in no uncertain terms that 'Reagan is not intolerant,'" Bozell writes. "I hope you will review the script, and if you agree, refuse to associate your products with such a movie."

Related Item:
• Letter to the top 100 corporate advertisers
To schedule an interview with Mr. Bozell, or another MRC spokesperson, contact Katie Wright at (703)-683-5004, ext. 132.
---
Home | News Division | Bozell Columns | CyberAlerts
Media Reality Check | Notable Quotables | Contact the MRC | Subscribe