FOR IMMEDIATE RELEASE
OCTOBER 27, 2006
CONTACT: TIM SCHEIDERER OR COLLEEN O'BOYLE AT 703.683.5004
---
ABC'S PINING FOR 'SPEAKER' PELOSI BUT TRASHING OF SPEAKER GINGRICH IS A CLEAR DOUBLE STANDARD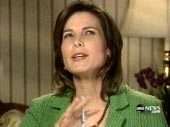 Alexandria, VA–The Media Research President Brent Bozell blasted ABC for running a largely sentimental, softball interview of House Minority Leader Nancy Pelosi -- a piece capped on Thursday's World News by reporter Claire Shipman who, doe-eyed, pondered whether the congresswoman daydreams about being "Speaker of the House Nancy Pelosi." This is in stark contrast to the hardball, antagonistic, and blistering coverage the network had given potential House Speaker Newt Gingrich in 1994.


"ABC's pining over the liberal Nancy Pelosi as the possible next Speaker of the House is a clear double standard and one more example of how the liberal media are tilting their coverage to help liberal Democrats win on Election Day, November 7," said Brent Bozell, president of the Media Research Center.

"ABC shredded Newt Gingrich in 1994, when he stood to become House Speaker, with reporter Jim Wooten tarring him as 'the national poster boy for the politics of resentment and rage.' But in 2006, everything is coming up roses for Nancy Pelosi at ABC. The liberal media are doing everything they can to tilt the election in Democrats' favor."


To view ABC's contrasting coverage of Nancy Pelosi and Newt Gingrich, see www.MRC.org.
T
o schedule an interview with MRC President Bozell or an MRC spokesperson, please contact Tim Scheiderer (x. 126) or Colleen O'Boyle (x. 122) at 703.683.5004.
---
Home | News Division | Bozell Columns | CyberAlerts
Media Reality Check | Notable Quotables | Contact the MRC | Subscribe