Thursday, July 31, 1997 | Vol. One, No. 8 | Media Inquiries: Keith Appell (703) 683-5004

---
Network Evening Shows All Cover Hearings for Second Straight Night; Morning Shows Silent Again
White House Obstruction Ignored by NBC
Two stories tumbled out of yesterday's Senate hearings. Hours after the Senate investigated Wu Lap Seng's wire transfers to Charlie Trie, the White House released information requested months earlier showing that Wu visited the White House ten times from 1994 to 1996, causing Sen. Fred Thompson to declare "They have no credibility, as far as I am concerned." Also, Clinton legal defense fund manager Michael Cardozo testified about Trie's mysterious $640,000 in donations. Yesterday, CNN aired roughly 25 minutes of live testimony, MSNBC nothing. The evening shows all aired stories for the second night in a row, but the morning shows were silent today.
Evening shows, July 30: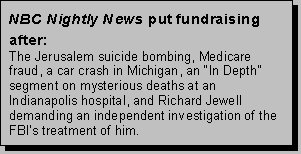 CBS Evening News covered both the Wu story and the Cardozo story. Bob Schieffer added detail: "What interests Senators is that at the time Trie was delivering all this money, he was also writing to the President urging him not to provoke China by sending U.S. warships into the Taiwan Straits. The letter was taken seriously enough that the White House National Security Adviser, Anthony Lake, drafted a reply, which the President signed."
On ABC's World News Tonight, reporter Linda Douglass expanded on her previous night's mention of Wu's White House visits, but did not address the testimony of Mr. Cardozo. She ended with the Clinton team's spin: "White House officials insisted tonight they're not hiding anything, and they claim they didn't know Mr. Wu was a priority for the committee. Besides, they say, they just discovered the records lying around in a box. Whatever the explanation, relations between the committee and the White House have hit a new low."
While ABC and NBC ran their stories after the first ad break, NBC Nightly News didn't get around to theirs until 20 minutes in, and did not address the Wu visits the White House admitted. Lisa Myers relayed Cardozo's testimony and noted Trie's legal defense fund money came from a Buddhist sect in Taiwan.
CNN's Prime News (at 8 pm ET) included a Candy Crowley story on the Wu angle (but not Cardozo's testimony). On Inside Politics, reporter Brooks Jackson disproved White House claims that they put a stop to improper fundraising tactics as soon as they heard about them: "Mr. Wu's most recent [White House] visit was October 21st of last year, just days before the election and long after the Asian money scandal was front page news." None of the evening shows relayed that nugget.
Morning shows, July 30 and 31:
CBS This Morning ignored the hearings for the 15th and 16th weekday mornings in a row. Wednesday featured two segments on the Cosby paternity squabble, and a segment on bringing the bald eagle back to Washington, DC. This morning, CBS aired interview segments on JonBenet Ramsey, dietary deterrents to breast cancer, speed skaters training for the next Olympics, and new TV-movies on Andrew Cunanan and Marcia Clark.
ABC's Good Morning America had no hearings coverage yesterday or today.
Yesterday, NBC's Today aired its first fundraising story since last Friday, a Joe Johns recap of Trie developments. NBC aired a political segment this morning, but instead of discussing the hearings, co-host Matt Lauer and Washington Bureau Chief Tim Russert touted Clinton's high new approval rating and Newt Gingrich's low numbers. -- Tim Graham & Brent Baker

L. Brent Bozell III, Publisher; Brent Baker, Tim Graham, Editors; Geoffrey Dickens, Gene Eliasen, James Forbes, Steve Kaminski, Clay Waters, Media Analysts; Kristina Sewell, Research Associate. For the latest liberal media bias, read the CyberAlert at www.mrc.org.
---
Home | News Division | Bozell Columns | CyberAlerts
Media Reality Check | Notable Quotables | Contact the MRC | Subscribe