Thursday, October 23, 1997 -- Vol. One, No. 28 -- Media Inquiries: Keith Appell (703) 683-5004

---
Senate Hearings Ignored While Networks Follow Clintons' Plans to Increase Government Control
Setting the Agenda for the White House
Senate hearings into fundraising irregularities focused on the White House coffee tapes, and Democrats responded by showing videos of Ronald Reagan thanking donors in the White House and transcripts of interviews with Bob Dole noting the RNC assisted his campaign with issue advertising last year. The hearings failed to capture much network attention, unlike Bill Clinton's plan on global warming or Hillary Clinton's conference on child care. While the morning shows all interviewed Hillary, none touched the Thompson hearings.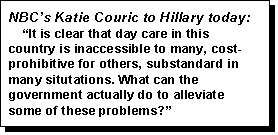 Evening news, October 22:
ABC's World News Tonight led with the "overwhelming majority of scientists" who believe in global warming. When Peter Jennings arrived at the fundraising story he sniffed: "We are tempted to say, 'Guess what happened at the Senate hearings today on campaign finance reform,' but you can probably guess already that Republicans and Democrats were hurling charges at each other again about breaking the law, the campaign law that is, during the 1996 presidential campaign."
CBS Evening News led with Clinton's plan to reduce greenhouse gas emissions, but turned to the Senate hearings in their second story. Reporter Bob Schieffer concluded: "Thompson again called for an independent counsel to investigate and conceded the committee has gone about as far as it can go, suggesting the next move is up to the Justice Department. 'You can take a mass of evidence to the courthouse door,' he said, 'but you can't break it down.'"
NBC Nightly News led with elderly Americans dying of neglect in nursing homes, followed by global warming, and aired nothing on the Senate hearings.
CNN's The World Today provided nothing on the hearings, but led with three stories on global warming and also aired a Jonathan Karl piece on child care.
Morning shows, October 23:
ABC's Good Morning America devoted almost half the show to Hillary Clinton this morning. Anchor Lisa McRee didn't ask a single conservative question about child care policy. She began by asking: "Is the child care system in crisis?" She added: "But the experts say that it really costs $6,800 per year to provide quality child care. The average American only spends $4,000. Will this administration provide any funding to help make up that difference if, in fact, it's going to cost more to provide quality care?" After citing the military as a role model, McRee repeated: "They spend $6,800 per child per year and again, how are we going to make up that difference without some sort of money coming from the federal government?"
On NBC's Today, Katie Couric asked mostly supportive questions about uniform federal day care regulation, financial aid for stay-at-home parents, and whether people are "ready" for an activist First Lady [see box], but was the only one to ask "conservative Republicans fear that this conference is going to lay the groundwork for massive government spending and regulation. What's your reaction to their concerns?"
In addition to a feature on first ladies and a discussion of how child care is a "safe issue" for Mrs. Clinton, CBS This Morning host Jane Robelot's interview with Hillary also asked soft questions such as: "What is the cost of ignoring this issue?" Robelot mentioned that with welfare reform, "we're really looking for more federal or state dollars or more private sector involve-ment." CBS devoted more than 12 minutes to the interview, which adds up to roughly four times as many minutes as they devoted to fundraising in the whole month of September. -- Tim Graham

L. Brent Bozell III, Publisher; Brent Baker, Tim Graham, Editors; Eric Darbe, Geoffrey Dickens, Gene Eliasen, Steve Kaminski, Clay Waters, Media Analysts; Kristina Sewell, Research Associate. For the latest liberal media bias, read the CyberAlert at www.mrc.org.
---
Home | News Division | Bozell Columns | CyberAlerts
Media Reality Check | Notable Quotables | Contact the MRC | Subscribe