Friday, March 20, 1998 | Vol. Two, No. 12 | Media Inquiries: Keith Appell (703) 683-5004

---
Skeptical Media Treatment Is Proper, But Not When Applied Only to Accusers of Democrats
Willey: First Ignore Her, Then Destroy Her
Kathleen Willey charged on national television that the President of the United States sexually harassed her in a room next to the Oval Office. For that charge, she has now been subjected to four days of media skepticism and hostility. That's quite a change from the seven months of media blackout Americans witnessed from the break of the Willey story last summer: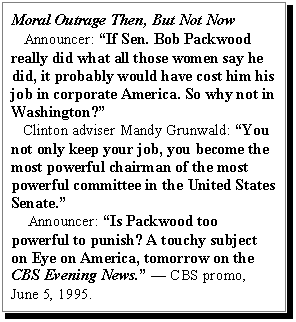 On July 30, 1997, CBS Evening News aired a brief story on how Paula Jones' lawyers had subpoenaed Willey to testify. Bill Plante noted: "But unless and until this case is settled, this is only the beginning of attempts by attorneys on both sides to damage the reputations and credibility of everyone involved." On that day, CNN's Inside Politics put a Willey brief last on the show and gave it 26 seconds on the evening newscast The World Today. The next day, Inside Politics gave it two minutes. CBS and NBC aired briefs. ABC aired nothing.
On August 4, Newsweek's new issue (dated the 11th) detailed how Willey had been a White House volunteer who asked the President for a paying job and was kissed and fondled. Newsweek quoted then-unknown Linda Tripp saying Willey appeared "flustered, happy, and joyful." Network coverage? Zero. But CNN's Inside Politics devoted almost its entire broadcast that day to unproven charges the Republican Mayor of New York, Rudy Giuliani, had an affair with his press secretary.
In an August 8 presidential press conference, ABC reporter John Donvan asked about Willey without naming her. Donvan confessed: "Even for those of us who don't have much appetite for this entire subject, this particular answer in this particular category seems needlessly evasive. My question to you is: Is it your wish that it be answered this way, and is it consistent with your intention to run an open White House?" But ABC continued to avoid the story despite the question.
Print outlets were inconsistent on the Willey story. Newsweek carried the story, but Time only mentioned it in one pro-Clinton Margaret Carlson column until Monicagate broke. U.S. News & World Report didn't touch it until February. The newspapers all picked up the story with Monicagate. Before then, The Washington Post carried only four news mentions, USA Today three, and the Los Angeles Times two. The New York Times didn't mention Willey until January 22.
Since her interview aired Sunday, Willey's been subjected to a whirlwind of media scrutiny. That's not unwarranted: journalists should greet accusers of top-level public officials with scrutiny of their allegations and motivations. But this was not the media's tendency toward the accusers of Clarence Thomas, John Tower, Bob Packwood, and other less than liberal officials.
Reporters not only failed to ask whether Anita Hill had a book deal in mind when she accused Thomas of sexual harassment. They failed to note it once she actually made a million-dollar two-book deal with Macmillan. CBS accused Tower of fondling women and abusing alcohol based solely on a source discharged from the military for "mixed personality disorder and anti-social and hysterical features." When will the media apply a single standard of conduct to all politicians? If that ever happens, they can call themselves objective. -- Tim Graham

L. Brent Bozell III, Publisher; Brent Baker, Tim Graham, Editors; Eric Darbe, Geoffrey Dickens, Gene Eliasen, Steve Kaminski, Clay Waters, Media Analysts; Kristina Sewell, Research Associate. For the latest liberal media bias, read the CyberAlert at www.mrc.org.
---
Home | News Division | Bozell Columns | CyberAlerts
Media Reality Check | Notable Quotables | Contact the MRC | Subscribe