Thursday, August 27, 1998 - Vol. Two, No. 35 - Media Inquiries: Keith Appell (703) 683-5004

---
News Magazines Give Little Credit to Starr for Extracting Confession Out of a Very Reluctant Clinton
No Cigar for Kenneth Starr?
The obviously missing angle in the journalistic aftermath of Clinton's "confession" is the victory of Ken Starr in extracting it. In this week's news magazines, Time's "Winners and Losers" feature picked "No One" as the winner and then self-deprecatingly nominated the press. Newsweek's "Conventional Wisdom Watch" left out Starr for a "Compartments of Bill Edition" which provided mostly down arrows for Clinton's performance. All three magazines did small features on "Boy Scout" Al Gore and new worries about an independent counsel on fundraising. Other highlights: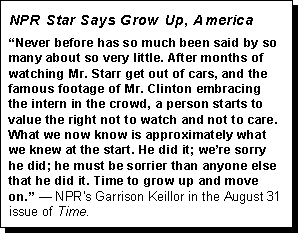 U.S. News & World Report's Stephen Budiansky summarized: "The only comforting bit of normality in the entire week was provided by the reliable inanity of the Washington press corps. The reporter who demanded to know if Defense Secretary William Cohen had seen the movie Wag the Dog reassured us that in one corner of the globe, the world was all right."
Editor-in-Chief Mortimer Zuckerman's commentary was titled "Blame All Around: Clinton's recklessness has given Starr more dirt to use and abuse." Zuckerman knocked Clinton, but preached for closure for the American people: "After four years they believe it is time for Starr to submit his report and end an ordeal that has wounded so many people, and this country, so grievously."
Time released its issue early with an attractive cover photo of the Clinton family. It wasn't quite as friendly inside, as Clinton drew scorn in columns by Peggy Noonan, Dee Dee Myers, Garry Wills, Charles Kraut-hammer, and Walter Kirn. For the White House spin, Time turned to National Public Radio personality Garrison Keillor for an essay titled "Can We Get On to Something Serious?" [see box]. The cover story by Nancy Gibbs and Michael Duffy began with the moldy old tale of how the Clintons used to prepare young Chelsea for the "wicked lies" their enemies would tell. "What would it take to prepare her, so many years later, for the possibility that this time, the enemies were the ones telling the truth? And what would it take to prepare us?" They also ended by calling Chelsea "a bright-eyed American echo of other countries' princesses," asserting: "Her ability to come back and fight for him, to walk with him and smile for him and throw herself before the cameras aimed at him, was an act of generosity and love that speaks better for Bill and Hill-ary Clinton than anything they could say or do in whatever public life remains to them."
Time devoted one page to a listing of several Clinton lies, but Richard Stengel spent two pages arguing presidential lying is routine, and that "Inside the Beltway, the scandal is not the lie but the unvarnished truth. George Bush's campaign barb about Reaganism being voodoo economics raised far more hackles than his claim that Clarence Thomas was the most qualified man in America to be on the Supreme Court."
Newsweek only gave special commentaries to Jesse Jackson and George Stephanopoulos, who urged Clinton not to resign. Jonathan Alter wrote about Hillary, claiming "No one can see behind the closed doors of someone else's marriage, especially one as perplexing as theirs." Alter then spent parts of five pages explaining how plausible it was that the First Lady had just figured out the truth about Monica. But a Newsweek poll found only 11 percent believed that White House story. -- Tim Graham

L. Brent Bozell III, Publisher; Brent Baker, Tim Graham, Editors; Jessica Anderson, Geoffrey Dickens, Mark Drake, Paul Smith, Clay Waters, Media Analysts; Kristina Sewell, Research Associate. For the latest liberal media bias, read the CyberAlert at www.mrc.org.
---
Home | News Division | Bozell Columns | CyberAlerts
Media Reality Check | Notable Quotables | Contact the MRC | Subscribe