Friday, September 18, 1998 - Vol. Two, No. 37 - Media Inquiries: Keith Appell (703) 683-5004

---
The Same Networks Wary of "Salacious Language" on Monicagate Air It Nightly in Prime Time Sitcoms
The Newest "Family Values" Hypocrites
The Starr report quickly drew media fire for being too sexually graphic. "It's so salacious. It's so graphic. There will be many people who will feel it's disgusting, wonder what they'll tell their children. It might cause a backlash for Ken Starr," warned ABC's Barbara Walters on 20/20 the night of September 11.
USA Today reported Thursday that ABC, CBS, and NBC will air excerpts of Clinton's videotaped grand jury testimony and "probably bleep out salacious language." CBS News spokeswoman Sandy Genelius said: "This is an instance where it may not be best to be first."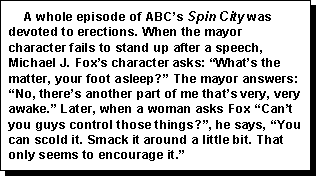 But are the networks really worried about children sneaking upstairs to watch the news? If the networks were so concerned about salacious material on TV, why don't they air a segment about their own sitcoms? MRC entertainment analysts Tom Johnson and Melissa Caldwell provided many examples, including:
CBS's The Nanny: In one show, the title character, Fran, and two other women go to a cigar bar. One woman says: "Look at those men over there staring at us smoke. It's not very feminine. I wonder why it turns them on so much?" The women put cigars in their mouths and stare back at the men, clearly suggestive of oral sex. Another Clintonesque metaphor came in a show when Fran referred to a female cousin who'd "ground her teeth down to the gums...her [husband] has never been happier."
ABC's Spin City: One of Michael J. Fox's female underlings tells her boyfriend on the phone: "It was just a run-of-the-mill orgasm. I didn't mean to scare you." When she notices Fox's character nearby, she claims it's her mother on the phone. Fox jokes: "I'll let you get back to your mom before she loses her erection."
Fox's Getting Personal: Milo is slow-dancing with a woman who thinks he's gay. She asks, "What is that?" He replies "a pack of Certs," to which she soon replies: "Those Certs just turned into a can of Pringles."
ABC's The Drew Carey Show: Mimi says, "I guess you'd better call your four girlfriends and a thumb and tell them you're going to be late." Drew replies: "Since you're staying, maybe my four girlfriends and a thumb can go out to dinner with 'Pleasure Me Pete.'"
NBC's Friends: Joey emerges from the bedroom, naked except for a dartboard he's holding over his crotch, and tells his roommate he and his girlfriend "aren't exactly gonna be sleeping," but asks him to turn down the TV.
Fox's Living in Captivity: In the show's debut last Friday, a couple's baby is 10 days overdue, and a neighbor suggests the two have sex to hasten the arrival. The husband begs off, telling his wife he's afraid he might "dent" the baby's head. She barks, "I don't care if you poke his eyes out."
The latest study by the Parents Television Council found the networks averaged more than two sexual references an hour in the first hour of prime time, or "family hour," with ABC leading with almost 3.5 per hour. All the shows cited here aired in the "family hour," except The Drew Carey Show. (Spin City is moving to a later slot this year.)
The networks don't really have a problem with children being exposed to salacious materials, or these programs wouldn't air these lines. They don't mind TV characters acting like horny oafs, trading lines about their sex organs and fantasies. They just don't want to expose America to a President who resembles them. -- Tim Graham

L. Brent Bozell III, Publisher; Brent Baker, Tim Graham, Editors; Jessica Anderson, Geoffrey Dickens, Mark Drake, Paul Smith, Clay Waters, Media Analysts; Kristina Sewell, Research Associate. For the latest liberal media bias, read the CyberAlert at www.mrc.org.
---
Home | News Division | Bozell Columns | CyberAlerts
Media Reality Check | Notable Quotables | Contact the MRC | Subscribe