Thursday, December 10, 1998 - Vol. Two, No. 49 - Media Inquiries: Keith Appell (703) 683-5004

---
Ken Starr Might Have Thought Twice About An Interview If He Knew ABC Host's Body of Work
Diane Sawyer's Judgment of the "Judgmental"
ABC's Diane Sawyer carried a lot of the outrage of her friends and colleagues into her guns-blazing November interview with Kenneth Starr. "I cannot tell you how many people have said to me, 'ask him.' Do I have a right to ask about your sex life?" Starr could have replied that's usually the territory of TV journalists ("Did you ever, as this young boy said you did, did you ever, sexually engage, fondle, have sexual contact with this child or any other child?" -- Sawyer to Michael Jackson, July 14, 1994). But Starr probably didn't study Sawyer's body of work, because it might have caused him to reconsider. Sawyer has much more sympathy for those who end up on the wrong side of the law, or are otherwise misunderstood by straight-laced people: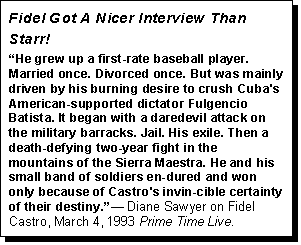 Barney Frank. On February 20, 1992, Sawyer promoted Frank's new book, Speaking Frankly: "Congressman Barney Frank of Massachusetts. A man called one of the truly gifted legislators of our time. By some accounts, able to influence up to 70 percent of Democrats' votes on his issues, fair housing, defense cuts." She called him "A public figure fierce about private life, a scrappy intellectual who has made a career out of saying exactly what he thinks." The first sentence of Sawyer's segment: "Meet the man who does the most scandalous thing you can do in Washington. He tells the truth."
Although ABC waited weeks and weeks to cover the 1989 exposure of Frank's relationship with male prostitute Stephen Gobie, who set up a prostitution ring in Frank's house and had Frank clearing his parking tickets, Sawyer brought it up years later with a heavy dose of empathy: "Frank has said it all happened because he felt trapped in the closet." She wondered: "Was that the roughest time in politics for you?" When Frank said it showed clumsiness and stupidity, Sawyer interjected: "Loneliness?"
Susan McDougal. On September 4, 1996, Sawyer explained: "This is Susan McDougal, who told me she is genuinely torn because the prosecutors are offering her freedom from jail if she'll answer all their questions about the Clintons." She asked: "Could you bear prison for two years? Could you just bear it?" Susan wilted: "No, I'm not a strong person." Sawyer added: "She says that's why prosecutor Kenneth Starr is tightening her noose...She says Starr and his staff hound you, and twist your words."
McDougal said of Starr and his staff: "I was quoted as saying I want them dead, I want their families dead, I want their homes burned to the ground." That didn't stop Sawyer from promoting her as lovable, letting her explain she "dated ministers and sang in church choirs" before she met Jim McDougal. Sawyer noted: "Someone was quoted as saying of you and your husband: 'It was a party.'"
The Menendez Brothers. On December 15, 1994, Sawyer asked Professor Arthur Miller on Good Morning America about Lyle and Erik Menendez, who shotgunned their parents to death: "It seems to me we really don't believe in bad seeds anymore much in this country. We think there are psychiatric reasons, biological reasons for a lot of behaviors. So I keep saying to him, why doesn't the law begin to acknowledge that basically people are not entirely responsible for the things they do if they were victimized in the past?"
Sawyer seems to reserve harsh judgment only for those she sees as judgmental. -- Tim Graham

L. Brent Bozell III, Publisher; Brent Baker, Tim Graham, Editors; Jessica Anderson, Brian Boyd, Geoffrey Dickens, Mark Drake, Paul Smith, Media Analysts; Kristina Sewell, Research Associate. For the latest liberal media bias, read the CyberAlert at www.mrc.org.
---
Home | News Division | Bozell Columns | CyberAlerts
Media Reality Check | Notable Quotables | Contact the MRC | Subscribe