For Immediate Release: Keith Appell (703) 683-5004 - Friday, February 19, 1999
Vol. Three, No. 7

---
Linda Tripp (Starr-Helper) Trashed, Julie Hiatt Steele (Starr-Hater) Promoted, Broaddrick Still Ignored
Dateline's Double Standard on Betrayal
NBC is sitting on a Lisa Myers interview with Juanita Broaddrick, who claims she was sexually assaulted by Bill Clinton in 1978. Broaddrick said she was told her interview would air on Dateline almost immediately after she talked with Myers. But Dateline has two policies in dealing with women tied to Clinton: those who threaten his legacy are trashed, while those who threaten his enemies' reputations are promoted. Here's one clear Dateline contrast: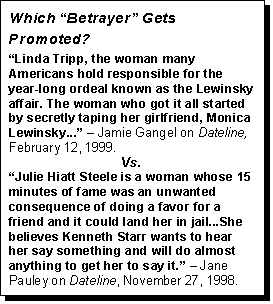 Last Friday night, Jamie Gangel boiled down her 20-minute unedited Today interview with Linda Tripp into a 13-minute attack piece. (See box.) Tripp was "The woman who not only launched a national scandal but launched a thousand jokes. And the woman who launched a wave of scorn."
A man on the street said: "I think she's manipulative." A woman on the street added: "I don't think much of her." Then Monica's father, Bernard Lewinsky, on tape: "It's something that I don't know how she will ever live the rest of her life knowing that she has so damaged a 'friend,' quote unquote."
Gangel repeated Tripp regretting her claim "I'm like you," with Gangel insisting: "And I think America resoundingly said 'no you're not.'" Gangel again bashed Lucianne Goldberg, "a New York book agent, political bit player and an avowed Clinton hater." She replayed her final volley: "When all is said and done, Monica's life has been ruined. President Clinton remains in office. The country has gone through a year of scandal which many people blame you for. Was it worth it?"
On November 27, 1998, Jane Pauley awarded a much more sympathetic interview to Julie Hiatt Steele, who, it could be argued, has betrayed her friend by first confirming Willey's account of sexual advances by Clinton, then recanting. She even provided an affidavit for Clinton's lawyers. (The idea that Broaddrick's decisions to recant, then reaccuse Clinton of assault would make her unreliable for NBC airwaves did not apply to Steele.)
Pauley began the segment: "Is it over yet? Will it ever be over? Kenneth Starr's investigation of the President would seem to be winding down even as the independent counsel is making himself more visible than ever. But tonight, a woman who says every time her name is mentioned in connection with the investigation, she gets hit with another threatening letter from the independent prosecutor's office. And for her, what began as a favor for a friend may yet, according to her lawyer, get her slapped with an indictment for perjury." Starr did indict her.
Pauley's segment had no critical talking heads, no relatives of Willey, no Starr, no Michael Isikoff of Newsweek, whom Steele is suing. (NBC relayed that Newsweek calls Steele's claims "pure fantasy.") It was all about Starr: "Steele says Starr's investigators have scrutinized everything about her so relentlessly, they've made her life miserable." Pauley promoted Steele's most heart-tugging claim, that Starr was investigating her adoption: "After her four-year-old baby died in her arms, Steele brought her son home from Romania eight years ago...What evidence Starr's investiga- tors are looking for is unclear, or is it evidence that the Starr investigation is out of control?" NBC didn't wait to "lock down" that story before attacking Starr. -- Tim Graham

L. Brent Bozell III, Publisher; Brent Baker, Tim Graham, Editors; Jessica Anderson, Brian Boyd, Geoffrey Dickens, Mark Drake, Paul Smith, Media Analysts; Kristina Sewell, Research Associate. For the latest liberal media bias, read the CyberAlert at www.mrc.org.
---
Home | News Division | Bozell Columns | CyberAlerts
Media Reality Check | Notable Quotables | Contact the MRC | Subscribe