For Immediate Release: Keith Appell (703) 683-5004 - Wednesday, July 28, 1999
Vol. 3, No. 29

---
FNC, New York Times Expose Again the Absence of Big TV Bloodhounds on China-DNC Money Trail
Too Busy Laying Bouquets at JFK's Door?
Network news is now defined by airing celebrities over substance. When Princess Diana died in 1997, the morning and evening shows of ABC, CBS, and NBC, plus CNN's evening show The World Today, devoted six times as many stories to Diana as to the Senate hearings into Chinese fundraising. From August 31 to the end of September, the numbers were 686 to 113. The morning shows collectively aired 407 stories on Diana's death, to just 38 on the fundraising scandal.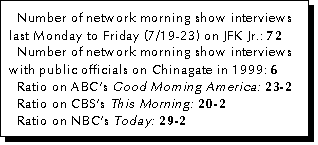 The same pattern holds with the death of John F. Kennedy Jr. Despite hearings throughout 1999 on Chinese fundraising and espionage, the morning shows have aired only six interviews with public officials this year. Compare that to 72 JFK Jr. interviews last Monday to Friday found by MRC intern Joyce Garczynski [See box].
Yesterday, The New York Times and the Fox News Channel produced the latest revelations on the China story, and once again, the other networks aren't even trying to play catch-up. Coverage? Zero.
Jeff Gerth's July 27 Times story reported on Citibank's connections to the China-DNC money trail being probed by Rep. Dan Burton. "Last week Burton, chairman of the House committee on government reform, complained in a letter to Citibank about 'undue delays' and a 'seeming lack of compliance' with a committee subpoena for records on the $300,000 wired to a Democratic fundraiser. Bank records list the sender as Ms. Liu [Chaoying], a Chinese military officer and aerospace executive whose father was then China's senior military official."
Gerth added: "Ms. Liu's Citibank transfer came a few days after the head of Chinese military intelligence told Ms. Liu and the fundraiser, Johnny Chung, that he would soon have Ms. Liu forward $300,000 to Chung to support President Clinton and the Democratic Party, according to Chung's testimony last May before Burton's committee."
Gerth also reported on investigators' attempts "to trace tens of millions of dollars from the central bank to an account at Citibank Private Bank that was controlled by the daughter of one of the Communist Party's old guard, government documents show. The woman is the sister-in-law of Ms. Liu and a former official at a small California bank that served the Chinese business community."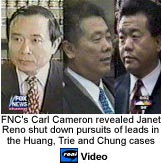 FNC's Carl Cameron reported Tuesday night: "The Justice Department once labeled the China money investigation its largest and most important case -- over 100 agents and prosecutors. But Attorney General Janet Reno's team blew it, according to a recent Inspector General's report, which concluded that leads were not followed and feet were dragged. Now some investigators, and members of Congress, fear the case is being allowed to peter out."
Cameron revealed "documents obtained by Fox News indicate that Justice had Chung's bank records as evidence of that [Chinese wire transfer] back in November of 1997 and did not thoroughly investigate it. Chung received more than $2 million in Chinese currency, the equivalent of about $300,000 U.S. dollars, in a Citibank wire transfer from Liu Chaoying, a Lieutenant Colonel in the Chinese military. Justice never even tried to trace the money, or it could have discovered that the cash came from China's top military spy." New York Times columnist William Safire also reviewed the Inspector General's report in a July 16 column. Read Safire at www.nytimes.com/opinion/library under the title "Whitewash at Justice." -- Tim Graham

L. Brent Bozell III, Publisher; Brent Baker, Tim Graham, Editors; Jessica Anderson, Brian Boyd, Geoffrey Dickens, Mark Drake, Paul Smith, Brad Wilmouth, Media Analysts; Kristina Sewell, Research Associate. For the latest liberal media bias, read the CyberAlert at www.mrc.org.
---
Home | News Division | Bozell Columns | CyberAlerts
Media Reality Check | Notable Quotables | Contact the MRC | Subscribe