For Immediate Release: Katie Wright (703) 683-5004 - Thursday, April 6, 2000
---
25-Year-Old Movie Star/Teen Idol/Earth Day Activist Hired as White House Correspondent For a Day
Leonardo: ABC's Liberal Laughingstock
ABC News President David Westin fired 21-year veteran Bob Zelnick because of the "appearance problem" caused by Zelnick writing a biography of Al Gore for Regnery, a conservative publisher. Last year, Westin strongly objected to the hiring of "reckless" Internet star Matt Drudge as an ABC Radio host. So Westin looks a little funny trying to deny ABC intended President Clinton to be interviewed by 25-year-old movie star Leonardo DiCaprio, now promoting a big liberal Earth Day rally in Washington.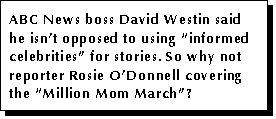 Does DiCaprio have the gravitas to be White House correspondent for a day? In the March 1995 issue of Details magazine, DiCaprio asked, "Who's Newt Gingrich? Oh, wait a minute, I've seen Newt on TV. He's that funny-looking guy. I haven't really been following politics lately."
A look at DiCaprio's current talents on the official Earth Day Web site is not encouraging. In the kickoff press conference, DiCaprio interviewed Earth Day organizers with multiple insertions of "wow," "cool," and "scary stuff." (DiCaprio has endorsed Al Gore for President.)
In a separate Yahoo! chat, DiCaprio's answers suggested he hasn't exactly hit the books to determine his political positions. "I watched a lot of television programs, documentaries, and movies on wild life[sic] and the environment and was shocked to find out what we were doing to Earth. Now I am in a position to make a difference, and I really want to."
When asked to define global warming, he wrote, "What global warming is, is basically temperatures around the world are rising, becoming extremely dangerous for all living things around the world." When asked what is his first environmental concern, besides global warming, DiCaprio again underlined his video education: "Saving endangered species. I saw a program when I was very young about the wildlife that is now extinct."
Even far-left Earth Day chief Denis Hayes noted DiCaprio wasn't exactly a Ph.D. in an interview with the Boston Globe: "'We're trying to reach a broader cross section of America, and sometimes you have to go out of the box,' Hayes says. Yes, he concedes, it is 'somewhat frustrating' that environmentalism has come to this. But there is no choice. 'Sure, it'd be preferable if policy issues could be discussed on a higher plane, but we live where we live.'"
DiCaprio's Clinton interview is slated to appear in an hour-long ABC Earth Day special hosted by Chris Cuomo, son of Mario Cuomo. But ABC is not the only news outlet preparing a one-sided Earth Day special.
The New York Daily News reported on March 24 that DiCaprio is insisting on writing an essay for Time's Earth Day issue "all by himself." He'll be joined here, too, by Bill Clinton, marking the President's third bylined Time piece since December. Sources told the Daily News the issue would also feature green activists Robert F. Kennedy Jr. and Stewart Brand, and liberal writers Mark Hertsgaard and Roger Rosenblatt.
To make the next month perfect, perhaps ABC can hire as unpaid correspondents Rage Against the Machine to interview Clinton before the Washington protest against the World Bank and International Monetary Fund, followed by Ellen DeGeneres for the gay and lesbian left rally, and then Rosie O'Donnell for the "Million Mom March." After all, Westin told the New York Daily News he wasn't opposed to using "informed celebrities" for stories. -- Tim Graham
L. Brent Bozell III, Publisher; Brent Baker, Rich Noyes, Editors; Jessica Anderson, Brian Boyd, Geoffrey Dickens, Patrick Gregory, Ken Shepherd, Brad Wilmouth, Media Analysts; Kristina Sewell, Research Associate; Liz Swasey, Director of Communications. For the latest liberal media bias, read the CyberAlert at www.mrc.org.
---
Home | News Division | Bozell Columns | CyberAlerts
Media Reality Check | Notable Quotables | Contact the MRC | Subscribe