For Immediate Release: Katie Wright (703) 683-5004 - Wednesday, November 29, 2000

---
MSNBC'S BANFIELD IS EXCITED BY ALL-DEMOCRAT PHONE FEST
NETWORKS STUMPED: IS AL GORE MORE LIKE A MILITARY HERO OR TEEN CRUSH?
-- On Wednesday's Good Morning America, ABC's George Stephanopoulos tempted his audience to picture Al Gore as a general on horseback leading the charge. Really.
-- Stephanopoulos told Diane Sawyer: "You know, last week, the first couple of weeks of election day, Al Gore stayed mostly in the command center of the U.S. Naval Observatory....huddled behind his computer console, e-mailing members of Congress, reporters, really directing his legal fight from behind the scenes. But now the general's decided to go out on horseback and really lead the charge himself."
-- It is unclear whether Stephanopoulos was trying to get viewers to picture Gore as a latter day General Washington, or a General George Custer.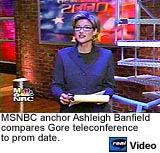 -- Silly as it was, Stephanopoulos's image-making was no match for MSNBC's Ashleigh Banfield. On Monday, awaiting a public conference call between Gore, Joe Lieberman, Dick Gephardt and Tom Daschle (sort of a photo-op with no photos), Banfield cracked to correspondent Norah O'Donnell: "The last time I was this excited about a two-minute warning for a telephone call was when I was waiting for my prom date to call and invite me to the prom - and I'm not going to tell you how many years ago that was."
-- Teenage girls who get a thrill out of eavesdropping while middle-aged Democrats repeat talking points to each other might want to think about a post-prom career with MSNBC.

L. Brent Bozell III, Publisher; Brent Baker, Rich Noyes, Editors; Jessica Anderson, Brian Boyd, Geoffrey Dickens, Patrick Gregory, Ken Shepherd, Brad Wilmouth, Media Analysts; Kristina Sewell, Research Associate; Liz Swasey, Director of Communications. For the latest liberal media bias, read the CyberAlert at www.mrc.org.
---
Home | News Division | Bozell Columns | CyberAlerts
Media Reality Check | Notable Quotables | Contact the MRC | Subscribe