For Immediate Release: Katie Wright (703) 683-5004 - Friday, December 1, 2000

---
ABC PAYS FOR THIS, AND NBC'S TODAY THINKS IT'S FUNNY
BILL MAHER JOKES THAT AMERICA HOPED O.J. KILLED KATHERINE HARRIS
Last night on ABC's Politically Incorrect, host Bill Maher made an outrageous joke about hoping for the death of Florida's Republican Secretary of State Katherine Harris. This morning, a report by correspondent George Lewis on NBC's Today replayed the "joke" for their viewers without any critical comment:
"Now earlier today, a rental truck carried a half a million ballots from Palm Beach to the Florida Supreme Court there in Tallahassee. CNN had live helicopter coverage from the truck making its way up the Florida highway, and for a few brief moments, America held the hope that O.J. Simpson had murdered Katherine Harris."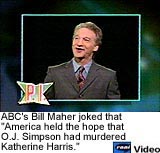 Want to comment to ABC? www.abc.go.com/primetime/politicallyincorrect/pi_faq.html -- Tim Graham and Rich Noyes

L. Brent Bozell III, Publisher; Brent Baker, Rich Noyes, Editors; Jessica Anderson, Brian Boyd, Geoffrey Dickens, Brad Wilmouth, Media Analysts; Kristina Sewell, Research Associate; Liz Swasey, Director of Communications. For the latest liberal media bias, read the CyberAlert at www.mrc.org.
---
Home | News Division | Bozell Columns | CyberAlerts
Media Reality Check | Notable Quotables | Contact the MRC | Subscribe