For Immediate Release: Katie Wright (703) 683-5004 - Thursday, June 28, 2001

---
On First Anniversary of Elian's Return to Communism, NBC's Mitchell Stresses Castro's Point of View
No Tough Questions For Cuban Dictator
Fidel Castro got what he wanted in selecting Andrea Mitchell as the only U.S. television reporter allowed to check up on Elian Gonzalez one year after he was sent back to the Communist-controlled island by Janet Reno's Justice Department. NBC viewers saw a portrait of a happy Elian in Cuba who has forgotten all about his Miami relatives and now lives with his father, who is sure he made the correct choice to live in Cuba. The dictator was apparently so pleased that he rewarded Mitchell with a one-on-one interview that stretched until early Thursday morning.
On Wednesday's NBC Nightly News, Mitchell vouched for the youngster's happiness: "A year ago, the boy was the center of an international tug-of-war. Now he appears to me to be a typical kid, playful, even mischievous." As for Elian's father, Juan Miguel, Mitchell said "he told me he never second-guesses his decision to raise his son here instead of in the United States. A Communist Party loyalist, up front at Castro rallies, he insists the decision to stay was his, not Castro's."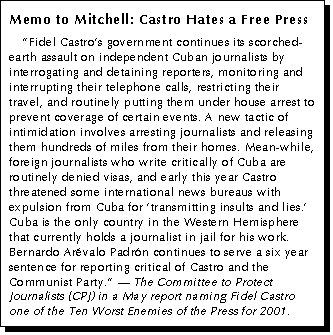 Mitchell mentioned none of the drawbacks to life for Elian and his father in the socialist dictatorship. Instead, she painted their hometown in quaint Rockwellian colors: "Cardenas, a small fishing village two hours from Havana, where people still get around by horse and carriage."
Late Wednesday, Mitchell was granted another exclusive - a late night, three-hour conversation with Castro himself. If she asked Castro any tough questions about the human rights abuses which have occurred during his 42-year rule, none were included in her report filed for Thursday's Today. Instead, she relayed Castro's view that he was a force for moderation during last year's contest over Elian.
"During three hours of conversation with Fidel Castro," Mitchell related, "he told me that the Cuban people last year were so determined to get Elian back that some extremists even wanted to send military commandos to the United States."
"Fidel Castro clearly views Elian's return as a political victory over the United States," Mitchell parroted as she allowed Castro to brag about how his resting pulse rate is like that of a professional athlete. "Approaching his 75th birthday this August, the world's longest surviving leader also believes he is politically strong, partly as a result of that struggle over a seven-year-old boy."
Mitchell has fawned over Castro before. In a December 15, 1999 piece from Cuba, when Elian was in the U.S., Mitchell oozed, "What's astounding is how much Castro is personally micro-managing the Elian case. He's not just the country's head of state, he's the CEO." She even described Castro as "old-fashioned, courtly - even paternal."
But talking to Katie Couric on Wednesday morning's Today, Mitchell insisted she was granted access because of her connections to the Gonzalez family, having previously met Juan Miguel and Elian's grandmothers. It's gullibility like that which is bound to earn Andrea Mitchell yet another audience with El Jefe. -- Brent Baker and Rich Noyes

L. Brent Bozell III, Publisher; Brent Baker, Rich Noyes, Editors; Jessica Anderson, Brian Boyd, Geoffrey Dickens, Patrick Gregory, Ken Shepherd, Brad Wilmouth, Media Analysts; Kristina Sewell, Research Associate; Liz Swasey, Director of Communications. For the latest liberal media bias, read the CyberAlert at www.mrc.org.
---
Home | News Division | Bozell Columns | CyberAlerts
Media Reality Check | Notable Quotables | Contact the MRC | Subscribe