For Immediate Release: Katie Wright (703) 683-5004 - Thursday, November 14, 2002


---
Blaming "Conservative Media" for Democratic Losses,
Pundits Demand Still More Liberal Media Bias
Media Bias Destroyed Democratic Dreams?
Call it the Return of the Vast Right Wing Conspiracy. A popular theory being peddled by liberal pundits is that the media are too slanted towards conservatives for liberals to get a fair shake, and that's why Democrats did so poorly last Tuesday. That's right, a pro-conservative press.


In their quest for an even more aggressively anti-conservative media, liberals are trying the shame game, accusing their brethren of being right-wing tools: "Some of the major broadcast media are simply biased in favor of the Republicans, while the rest tend to blur differences between the parties," New York Times columnist Paul Krugman complained in a November 8 op-ed. "Talk radio and Fox News let the hard right get its message out to its supporters, while those who oppose the juggernaut stay home because they don't get the sense that the Democrats offer a real alternative." His advice: "Democrats should complain as loudly about the real conservative bias of the media as the Republicans complain about its entirely mythical liberal bias." Has he read his own newspaper?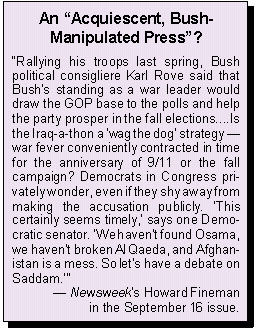 The Wall Street Journal's Al Hunt agreed. Republicans have enjoyed "the most acquiescent press corps since pre-Watergate; those liberal media conspiracy theories never contrast the coverage of the Bush and Clinton White Houses," his November 7 column exclaimed. "To date, the Bush-manipulated press fails to note that even more than Mr. Clinton, decision-making in this White House is overwhelmingly poll and politically driven." In fact, the political press was filled with insinuations that Bush had cynically cultivated a crisis with Iraq for political gain (see box).
Columnists, of course, are entitled to promote their own theories, but news reporters have also pushed the Democrats' "conservative bias" theme: "Even if Democrats pull together on some big issues, they'll still have to overcome G.O.P. bully pulpits in the White House and Congress - and a new reality: conservative bias in the media," insisted Time's Josh Tyrangiel in his magazine's November 18 edition. His only evidence? A "senior elected Democrat" said so.
The liberal press critics don't point to specific stories or biased reporters, however. Their big gripe is that Rush Limbaugh and the Fox News Channel publicize ideas from conservatives that the liberal media won't acknowledge. And liberals wish ABC, CBS, CNN, NBC, and the big papers were even more aggressive at countering and thwarting conservatives and their policies. That wouldn't make the news more objective, but it would mean more free opposition research on liberal foes.
After conservatives' 1994 victory, network reporters attributed it to nothing more than "anger," painted the GOP leadership as extremist, and aided liberals with heavy-handed coverage of the November 1995 government shutdown. Will they now agree with liberal critics that they need to be even less objective and more partisan? Or will they finally start acting like journalists first, liberals second? -- Rich Noyes

L. Brent Bozell III, Publisher; Brent Baker, Rich Noyes, Editors; Jessica Anderson, Brian Boyd, Geoffrey Dickens, Patrick Gregory, Ken Shepherd, and Brad Wilmouth, Media Analysts; Kristina Sewell, Research Associate; Liz Swasey, Director of Communications. For the latest liberal media bias, read the CyberAlert at www.mrc.org.
---
Home | News Division | Bozell Columns | CyberAlerts
Media Reality Check | Notable Quotables | Contact the MRC | Subscribe