For Immediate Release: Katie Wright (703) 683-5004 - Tuesday, July 15, 2003


---
Media Brand Vermont Governor "Populist," "Anti-War," and a Magnet for "Middle-Class Resentment"
Howard Dean: Not a Fierce
Liberal Force?
Here's one sign the media are beginning to take Howard Dean's presidential campaign seriously. The "liberal" label has been dropped from coverage, and in some stories, denied. In this week's Newsweek, Howard Fineman never described Dean as liberal, but did find him on target: "As an early foe of war in Iraq, he made acerbic comments that now look prescient." Here are some other examples of the trend:
Time. The July 14 Time chronicled "How Dean Is Winning the Web," but never called Howard Dean liberal. They did note that the "primary" he dominated at "left-leaning" MoveOn.org may be questioned because the runner-up was "the very liberal Representative Dennis Kucinich of Ohio."
Reporter Chris Taylor wrote: "Once viewed as a no-hoper for the nomination, notable only for his vehement opposition to the war in Iraq, Dean is increasingly forcing his party's other candidates to adjust their strategies as they figure out how to slow his momentum." Dean's supporters aren't ideological, just "a seam of online middle-class resentment... made up of passionate and often disgruntled believers."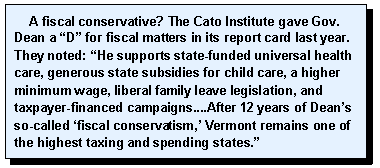 CNN. On Inside Politics, anchor Judy Woodruff sought out Peter Freyne of the Vermont alternative paper Seven Days to tackle the notion that Dean's too liberal. Freyne claimed: "His entire time in Vermont politics...there was never a sentence in any newspaper in the state of Vermont that contained the word 'liberal' and 'Howard Dean.'" (See box.)
Washington Post. A July 6 front-page profile by Evelyn Nieves was headlined "Short-Fused Populist, Breathing Fire at Bush." The word "liberal" did not appear until three-fourths the way into the story, and then only in a quote of denial: "'His being called a liberal is one of the great white lies of the campaign,' said Tom Salmon, a fellow Democrat and governor of Vermont for two terms during the Nixon-Ford era. 'He's a rock-solid fiscal conservative.'"
Nieves allowed Dean to deny the tag: "'I think it's pathetic that I'm considered the left-wing liberal,' Dean said. 'It shows just how far to the right this country has lurched.'" Nieves noted: "Over and over on the campaign trail, he tells audiences that he is a fiscal conservative who believes balanced budgets serve the cause of social justice."
Boston Globe. On June 23, the Globe also dwelt in denial. Reporter Sarah Schweitzer wrote "Dean's record isn't radically left-leaning" because "he advocates a balanced federal budget" and "received top ratings from the National Rifle Association and supports the death penalty in some cases."
Centrist? Others have dubiously claimed Dean was a moderate governor. On the June 23 CBS Early Show, co-host Hannah Storm said to Dean: "You have opposed the war on Iraq. You oppose the President's tax-cut package, and yet you are a centrist governor. So where does your constituency fall on the political spectrum?" On ABC's This Week July 6, reporter Michel Martin replied to Paul Gigot's insistence that Dean was driving the other contenders left by claiming: "The irony being, of course, that he wasn't a terribly liberal governor. He was in fact, a moderate."
Some have touched on Dean's hard-left appeal. On the June 22 NBC Nightly News, anchor Dawn Fratangelo even called it a "very liberal campaign." The next night, ABC's Dan Harris noted that moderates argue Dean is "bad for the party" and "will force the other Democratic candidates to move to the left." But these labels and themes are becoming the exception, and not the rule. - Tim Graham

---
Home | News Division | Bozell Columns | CyberAlerts
Media Reality Check | Notable Quotables | Contact the MRC | Subscribe