For Immediate Release: Katie Wright (703) 683-5004 - Tuesday, August 19, 2003


---
Posing as a Neutral Reporter, Maria Shriver Praised Hillary and Questioned California Voters' Judgment
The Future First Lady of California Liberals?
Conservatives cringed when recall candidate Arnold Schwarzenegger added anti-tax cut investment icon Warren Buffett and liberal actor/activist Rob Lowe to his campaign brain trust. But without a doubt the biggest liberal in Schwarzenegger's camp is his wife, NBC News star Maria Shriver, whom the Los Angeles Times said "has often functioned as a de facto personal manager" for her husband.
As one of the ubiquitous Kennedy cousins, it's no secret the potential First Lady of California is a lifelong liberal Democrat. But given the incredibly left-wing things Shriver has said on NBC when she thinks she's being objective and non-partisan, one can only imagine the liberal tilt of the advice she gives her husband. The world according to Maria Shriver:
■ Castro vs. Reagan. The Cuban dictator made people's lives better: "The level of public services was remarkable: free education, medicine and heavily-subsidized housing," Shriver gushed on Sunday Today during a February 28, 1988 tour of Havana led by Castro himself.
But when it came to Ronald Reagan, Shriver found the most incendiary charges worth repeating. "You place responsibility for the death of your daughter squarely at the feet of the Reagan administration. Do you believe they're responsible for that?" she asked AIDS sufferer Elizabeth Glaser at the Democratic convention on July 14, 1992.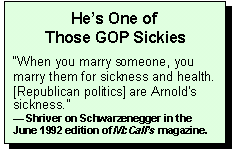 ■ Whitewater: Hillary's "personal misfortune." In 1996, Hillary Clinton was brought before the Whitewater grand jury, but instead of probing the scandal, Shriver fawned over the First Lady on the January 16 Today: "Nelson Mandela... wrote that there is no personal misfortune that one cannot turn into a personal triumph if one has the iron will and the necessary skills. You clearly have the iron will, you are clearly skilled. How are you going to turn this personal misfortune into a personal triumph?"
Afterwards, Maria gave herself an "A" for aggressiveness: "I memorized everything that was written about Whitewater, about Travelgate....You want to admire her, and yet you're a journalist and you have to ask her these tough questions." (CNBC's Tim Russert, February 4, 1996.)
■ More Hillary worship. "This has been a difficult couple of years for you," Shriver sympathized with Hillary after her speech at the 1996 Democratic convention. "Did that applause, the way you've been treated here, the way people have been reacting to you, kind of make it all go away?"
Hillary must have adored such softballs since she kept coming back to Maria, who always returned the love. On a 1998 bus trip, Shriver marveled how everyone liked Hillary when they got to know her: "I've talked to several people and they came up and said, 'She's so different than I thought she would be. She's so much more of a people person, she's funny, she's nice.' Do you think that, like, people don't get you? I mean, you get out here and people see a different side of you?" Shriver cooed on the July 16, 1998 Today.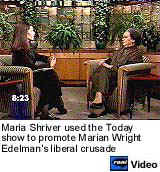 ■ Embracing liberal activists: On the March 24, 2000 Today, Shriver was more advocate than journalist as she endorsed the Children's Defense Fund's dubious claims: "They say one in five American children live in poverty, 13.5 million kids in this country are poor. Marian Wright Edelman, the incredible head of that organization, will be here to tell us today what can be done about it."
In 1996, when California voters approved a conservative civil rights initiative, Shriver repudiated their judgment. "Affirmative action was a hotbed issue," she fretted with Jesse Jackson during NBC's election night coverage. "Do you feel at times we've turned back the clock on some of these issues?"
Shriver once openly disdained her husband's politics, calling his Republican leanings a "sickness" (see box), but Arnold has apparently moved left: "We agree sometimes on politics. He's not as conservative as you think," Shriver assured ABC's Meredith Vieira before the Academy Awards in 2000. For once, she might be right. - Rich Noyes

---
Home | News Division | Bozell Columns | CyberAlerts
Media Reality Check | Notable Quotables | Contact the MRC | Subscribe