For Immediate Release: Katie Wright (703) 683-5004 - Wednesday, September 3, 2003


---
Can't See Bias: "ABC, CBS, NBC Are Mainstream Media...Largely in the Center...Without Ideologies"
20 Years of Bias From ABC's
Peter Jennings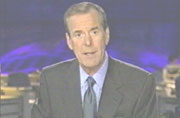 After sharing the top job with Frank Reynolds and Max Robinson for five years, Peter Jennings became sole anchor of World News Tonight on September 5, 1983. During the last twenty years, Jennings' liberal tilt has been obvious - the ABC anchorman has pushed for European-style welfare programs, denigrated tax cuts, castigated Republicans as intolerant, scoffed at suggestions that Soviet communism was a threat and pushed the arguments of left-wing anti-war activists during this year's successful war to oust Saddam Hussein.
To commemorate his 20th anniversary, the MRC presents some of the anchorman's worst bias; many more examples are available at www.mrc.org. All quotes are from World News Tonight unless otherwise noted.
• Investigating Democrats is a poor use of resources: "When we come back, two investigations of fundraising abuse, two of them on Capitol Hill. Is it a waste of time and money?" (April 10, 1997)
• Republicans are intolerant: "We begin tonight with what you could call zero tolerance....Today by the time Mr. Dole spoke by satellite to his party delegates, who were already gathered in San Diego, all notions of tolerance on the subject of abortion had disappeared from the party's platform." (August 6, 1996)
• Dukakis was robbed: "There are people in the country who think George Bush won not in a landslide, but a mudslide." (ABC's election night coverage, Nov. 8, 1988)
• The pro-Gore Florida Supreme Court was actually conservative: "We, by the way, tried to avoid labeling people this week, but here's a quick take on the makeup of the Florida Supreme Court. There are seven justices. Six were appointed by Democratic governors. Our legal analyst in Florida tells us that only one of the judges is considered to be a liberal. The rest are regarded as moderate to conservative." (November 17, 2000)
• Republicans want to destroy the planet: "Next week on ABC's World News Tonight, a series of reports about our environment which will tell you precisely what the new Congress has in mind: the most frontal assault on the environment in 25 years. Is this what the country wants?" (Promo aired during ABC's This Week, July 9, 1995)


| | |
| --- | --- |
| • Let's copy Sweden: "Tonight we have put the best child care system in the world on the American Agenda. That is to say, the system which is acknowledged to be the best outside the home. It's in Sweden. The Swedish system is run and paid for by the Swedish government, something many Americans would like to see the U.S. government do as well." (Nov. 22, 1989) | Jennings lavished praise on Sweden's government-controlled child care system. |
• Let's copy France, too: "On the American Agenda tonight, France. One of the things we have found...is how often there are lessons to be learned from other societies. It is one thing for the United States to spend less on children than almost any other country in the industrialized world. It is another to see what those countries get in return for their dollar, or in this case, their franc." (December 3, 1991)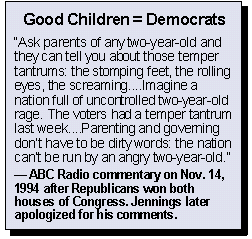 • But don't waste any money on defense: "We're going to take 'A Closer Look' tonight at the plans for an anti-missile defense system. The one that has never been proven to work and may never work." (June 12, 2000)
• Tax cuts deprive government: "Mr. Bush believes in a universal tax cut, which would mean a very large chunk of money not available for government programs." (Oct. 4, 2000)
• ...And they cause those awful deficits: "He [Treasury Secretary-designate John Snow] is said to be in favor of further tax cuts but against deficits. Doesn't one lead to the other?" (To George Stephanopoulos, December 9, 2002)
• America is so backwards: "The United States has this unfortunate distinction: It is one of only two countries in the industrialized world, the other is South Africa, that does not guarantee basic health care for all its children." (April 5, 1994)
• Castro's revolution really improved Cuban life: "Medical care was once for the privileged few. Today it is available to every Cuban and it is free. Some of Cuba's health care is world class. In heart disease, for example, in brain surgery. Health and education are the revolution's great success stories." (April 3, 1989)
• China isn't communist any more: "Various Chinese tell us today that the only people who think China is a communist country now live in Washington. Today in China, for many people, it is really about the pursuit of wealth." (June 25, 1998)
• It was silly to fear the Soviet Union: "There are some of you, I'm sure, who remember the days when we in the West were afraid that the Soviet Union would outdo the West technologically. They had been first into space. The CIA was pretty impressed, remember? And then the Soviet Union fell apart and we discovered how far behind they really were....Ah, yes, we used to take the Soviet Union so seriously." (Story about a failed Soviet attempt to develop jet boots, July 7, 2000)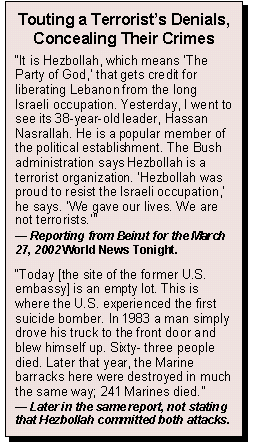 • Blix would have fixed Iraq: "So many people don't understand why you shouldn't let the inspections continue if they are accomplishing anything....Most people think they're doing a reasonably effective job at the moment." (Interviewing Colin Powell, March 7, 2003)
• Marxism for dummies: "By the way, 'No blood for oil,' from many people who are opposed to the war is, is not complicated at all. They believe the United States wishes to occupy Iraq in the long term to have the oil. Just so we understand why they wear those little buttons, 'No blood for oil.'" (March 20, 2003)
• Liberation bad for sculptors: "Saddam Hussein may have been, or may be, a vain man, but he has allowed himself to be sculpted heavy and thin, overweight and in shape, in every imaginable costume....The sculpting of Saddam Hussein, which has been a growth industry for 20 years, may well be a dying art." (During live coverage of the fall of Baghdad, as a crowd of Iraqis toppled a Saddam statue, April 9, 2003)
• Another casualty of war: free speech: "When we come back this evening, being against the war and in show business - and the people who want to punish you for that." (April 16, 2003)
• George Stephanopoulos is scrupulously nonpartisan: "If there's ever been a guy who's come out of an administration, who has made a cleaner break, and proved himself as a journalist than George Stephanopoulos, I don't know who it is." (Radio interview with Bill O'Reilly replayed on FNC's The O'Reilly Factor, May 15, 2002)
• We have no axe to grind: "I think there is a mainstream media. CNN is mainstream media, and the main, ABC, CBS, NBC are mainstream media. And I think it's just essentially to make the point that we are largely in the center without particular axes to grind, without ideologies which are represented in our daily coverage, at least certainly not on purpose." (CNN's Larry King Live, May 15, 2001)
• ...But being biased is glorious: "We may tell you all the time that our principal aim in life is to communicate and assist, inform....But if you see injustice and you can get people to do something about it, ahh, it's just a glorious feeling....There's nothing a reporter likes more than to have an effect on policy." (On a CBS News special, Breaking the News, August 24, 2001)
- Tim Graham and Rich Noyes
Related Items:
• Media Reality Check: Marking Tom Brokaw's Twenty Years of Tilt
• World News Tonight with Peter Jennings: 20 Years of Liberal Bias
• 20 Years on the CBS Evening News: Dan Rather's Liberal Bias

---
Home | News Division | Bozell Columns | CyberAlerts
Media Reality Check | Notable Quotables | Contact the MRC | Subscribe