Monday, November 21, 2005 | CONTACT: Tim Scheiderer (703) 683-5004


---
As ABC's White House Correspondent, New Nightline Anchor Terry Moran Pushed a Liberal Agenda
New Anchor's Record
of Liberal Advocacy
Another network news broadcast is about to undergo a major transformation. Tomorrow, Ted Koppel signs off after 25 years as Nightline anchor. A week from tonight, an ABC News triumvirate of Martin Bashir, Cynthia McFadden and Terry Moran will take the helm. But while the characters change, expect the spin to remain the same.
Bashir is a recent addition to ABC News, probably best known for his Michael Jackson documentary that helped push Jackson's arrest and trial on child molestation charges. McFadden is a veteran correspondent whose focus has been legal cases, but she's offered political opinions on the air. For example, when film director Elia Kazan was given a lifetime achievement award at the 1999 Oscars, McFadden spoke for liberals still furious that Kazan opposed communism in the 1950s, explaining on Good Morning America the next day that her "favorite moment was in the car driving up to the red carpet, a lone protester holding a sign that said, 'Kazan: the Linda Tripp of the '50s.'"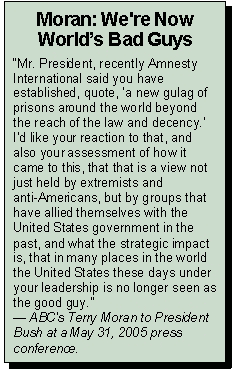 White House correspondent (and World News Tonight/Sunday anchor) Terry Moran, on the other hand, has earned something of a cult following on the far left with his obnoxious liberal questioning of President Bush and Press Secretary Scott McClellan. A blogger on the far-left Daily Kos Web site suggested a right-wing conspiracy in Moran's elevation: "Terry Moran has been one of the strongest question-askers and hounders of Scott McClellan in the past few months. He has stood up to Scott again and again....This smacks as a strategic move from the WH to me. Just when the scandal looms, you find ways to get rid of your critics."
Moran's record is filled with quotes that make liberals cheer. On the Sunday before President Bush's second inauguration, Moran began his newscast: "In a time of war and natural disaster, is it time for a lavish celebration?"
In May, during the controversy over Newsweek's faulty story about claims the U.S. military had abused the Koran, Moran told Press Secretary McClellan: "Scott, you said the retraction by Newsweek magazine of its story is a good first step. What else does the President want this American magazine to do?" After McClellan offered a suggestion, Moran erupted: "With respect, who made you the editor of Newsweek?" Uh, hadn't Moran himself just asked for an editorial opinion?
In May 2003, Moran was upset by a new tax law that would not provide families with a child "credit" over and above any taxes actually owed. He argued with Press Secretary Ari Fleischer: "I just wanted to make sure that you are saying the White House agreed to make the choice to leave these children behind." At a televised press conference in March 2003, Moran lectured the President: "So many governments and peoples around the world now not only disagree with you very strongly, but see the U.S. under your leadership as an arrogant power."
Moran isn't always a tough guy. In 2000, he covered Al Gore's campaign and empathized with the Vice President after his third debate with Bush: "You've spent a quarter century in public service and have worked on a lot of these issues, obviously have mastered a lot of the details of them. When you look across the stage, are you frustrated at all?"
On Nightline, Moran will focus on political stories, anchoring from Washington. Let's hope he learns how to pose hard questions to both sides, not just conservatives.
- Rich Noyes

---
Home | News Division | Bozell Columns | CyberAlerts
Media Reality Check | Notable Quotables | Contact the MRC | Subscribe