The Best Notable Quotables of 2007
The 20th Annual Awards for the Year's Worst Reporting

Quote of the Year
---
"As Violence Falls in Iraq, Cemetery Workers Feel the Pinch"
— Headline over an October 16 story by McClatchy News Service reporters Jay Price and Qasim Zein.
Click here to view runners-up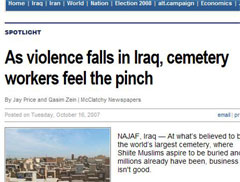 Featured Videos by Award Category
---
Explanation
---
Welcome to the Media Research Center's annual awards issue, a compilation of the most outrageous and/or humorous news media quotes from 2007 (December 2006 through November 2007). To determine this year's winners, a panel of 53 radio talk show hosts, magazine editors, columnists, editorial writers, and media observers each selected their choices for the first, second and third best quote from a slate of five to eight quotes in each category. First place selections were awarded three points, second place choices two points, with one point for the third place selections. Point totals are listed in the brackets at the end of the attribution for each quote. Each judge was also asked to choose a "Quote of the Year" denoting the most outrageous quote of 2007. The winner and top runners-up appear on page eight.

A link to the list of this year's award judges, who were generous with their time, appears below. The MRC's Michelle Humphrey, Kristine Lawrence and Melissa Lopez distributed and counted the ballots, then produced the numerous audio and video clips that accompany the Web-posted version. Brent Baker and Rich Noyes assembled this issue and Eric Pairel posted the entire package on the MRC's Web site: www.mrc.org.

Thursday, April 10, 2008. At the Media Research Center's annual gala celebration that night in Washington, DC, the MRC will announce the winners of the DisHonors Awards of 2008: Roasting the Most Outrageously Biased Liberal Reporters. Check www.mrc.org in early 2008 for additional information.
List of the Judges Who Selected the Winners
Content
---

A printable Adobe Acrobat PDF of the "Best of NQ" awards issue is included here for your convenience.

Plus, for the all the text in one document, download the MS Word or WordPerfect versions.