Roasting the Most Outrageously Biased Liberal Reporters of 2004
Thursday, April 21, 2005
The JW Marriott Hotel
---
Quote of the Year
(As selected by the audience...read explanation)
"60 Minutes has now obtained a number of documents we are told were taken from Colonel Killianís personal file. Among them, a never before seen memorandum from May 1972 where Colonel Killian writes that Lieutenant Bush called him to talk about how he 'can get out of coming to drill from now through November.í We consulted a handwriting analyst and document expert who believes the material is authentic."
"The 60 Minutes report was based not solely on the recovered documents, but on a preponderance of the evidence, including documents that were provided by what we consider to be solid sources."
- Dan Rather on the September 8 60 Minutes, followed by Rather on the September 10 CBS Evening News.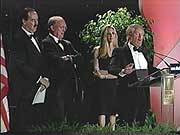 Brent Bozell, Cal Thomas, Neal Boortz, and Ann Coulter assess
which quote the audience judged to be the Quote of the Year
---
Neal Boortz, Atlanta-based nationally syndicated radio talk show host
L. Brent Bozell III, President of the Media Research Center
William F. Buckley, Jr., Founder of National Review
Ann Coulter, columnist and author of How to Talk to a Liberal
John Fund, columnist for OpinionJournal.com
Lucianne Goldberg, publisher of Lucianne.com
Sean Hannity, co-host of FNCís Hannity & Colmes and an ABC Radio talk show host
Laura Ingraham, host of the nationally syndicated Laura Ingraham Show
Rush Limbaugh, host of The Rush Limbaugh Show
Michelle Malkin, FNC contributor and editor of MichelleMalkin.com
Robert Novak, CNN host, Chicago Sun-Times columnist
Kate OíBeirne, Washington Editor of National Review and panelist on CNNís Capital Gang
William Rusher, Distinguished Fellow at the Claremont Institute
Cal Thomas, syndicated columnist and host of FNCís After Hours
Walter E. Williams, columnist and professor of economics at George Mason University
Thomas S. Winter, Editor-in-Chief of Human Events




Free RealPlayer plug-in required to watch these clips

---
Home | News Division | Bozell Columns | CyberAlerts
Media Reality Check | Notable Quotables | Contact the MRC | Subscribe