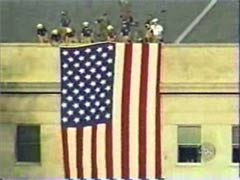 |
|

At the Dishonor Awards, the MRC presented a video tribute to network coverage on September 11th
In place of the journalist who won each award, a conservative accepted it in jest. Those standing in for the winners: Steve Forbes, Lucianne Goldberg, Robert Dornan, William F. Buckley Jr. and Katherine Harris.
Below are the top runners-up in each award category as picked by the judges, followed by the winner and the name of the conservative who accepted the award in jest.
Press Coverage: Columns, editorials and news stories about the Dishonors Awards. Check out pieces run in the Washington Times, Cleveland Plain Dealer, Pittsburgh Tribune Review and elsewhere.