FOR IMMEDIATE RELEASE
July 8, 2004
FOR MORE INFORMATION CONTACT:
Katie Wright at (703) 683-5004 ext. 132
---
Media's Joy at Democratic "Dream Team"
Shows Blatant Double Standard
New Book by MRC President Brent Bozell Documents the
Liberal Media Bias That's Distorting This Year's Election News

ALEXANDRIA, Va. --- Media Research Center President Brent Bozell blasted the national media for a blatant "double-standard" in their coverage of Campaign 2004. Bozell noted that coverage of Democrat Vice Presidential nominee John Edwards has been filled with praise for his hair and good looks, but reporters have virtually buried any discussion of Edwards' liberal ideology – the opposite of how they've treated recent Republican VP choices.
Four years ago, when President Bush announced Vice President Dick Cheney as his running mate, the networks immediately pounced on his conservative ideology. In the first 24 hours after Cheney's selection, network reporters tagged him as "a bedrock conservative," "a rock-solid conservative" with "a solidly conservative voting record" whose "politics are of the hard-right variety."
This year, network reporters refuse to label Edwards as liberal, presenting that fact merely as a GOP attack. Instead, journalists glowingly described his "moderate populism," a "style as syrupy as Carolina sweet tea," and have called Kerry and Edwards "the Democratic Dream Team."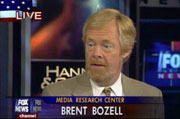 "This isn't the first time this has happened. There is a double standard with Democrats and Republicans. Just look at the coverage of the announcement of Gore as a Vice Presidential candidate for Clinton….I mean people talked about their chest sizes and how good looking, young and vibrant they were. But when Cheney was selected it was all about Halliburton, oil and right wing ideology." -MRC President Brent Bozell on FNC's Fox and Friends 7/8/04
"I must say I was struck by the expanse of their chests. They may have to put out their stats."
-- Eleanor Clift on Clinton and Gore, CNN's Inside Politics, July 10, 1992.
Brent Bozell's new book, WEAPONS OF MASS DISTORTION: The Coming Meltdown of the Liberal Media, provides more than six hundred direct quotes and sixty scientific studies proving how America's most influential news personalities and outlets continue to infuse their coverage with a liberal slant. He breaks down the big hot button issues that will effect this presidential election and describes how the liberal media present one-sided coverage on issues such as Abortion, Taxes, The Environment, Gay Rights, and Gun Control.

To schedule an interview with Brent Bozell to discuss the continued liberal bias
in campaign coverage, please contact Katie Wright at 703.683.5004 ext. 132.
---
Home | News Division | Bozell Columns | CyberAlerts
Media Reality Check | Notable Quotables | Contact the MRC | Subscribe