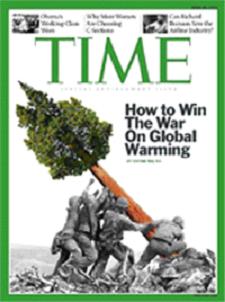 ALEXANDRIA, VA – The Media Research Center today sent a letter demanding an apology from Time magazine and its managing editor Richard Stengel for its April 28th cover art defiling the Iwo Jima Memorial. Signatories include individuals and organizations representing over 1,000 Iwo Jima veterans, as well as veterans of every foreign war fought in the last half century and many other members, retired and serving, of all branches of the armed forces.

Time debased the Memorial's iconic image, depicting the Marines atop Mount Suribachi planting a tree instead of the American flag. When pressed about the offensive cover last month, Stengel dismissed out of hand the myriad protests that had arisen as just another "point of view".

That other "point of view" is the one held by the men who fought there, representing those who died there. They have now stepped forward and added their voices, demanding an apology.

MRC President L. Brent Bozell remains incensed.
"The Iwo Jima Memorial is a sacred part of our national story. It is a transcendental image that represents the love, honor and respect the American people have for those who gave so much to defend us, those who wrote vital chapters in blood and sweat to ensure our American tale could continue being told.

"Our intent with this letter is to elicit what nothing thus far has succeeded in securing - a full and complete apology from Richard Stengel and Time magazine to the men who served at Iwo Jima, and in defense of our nation then and now."
Click here to read the letter to Time
.
Click here to view the heroes who signed the letter
.
---
Home | News Division | Bozell Columns | CyberAlerts
Media Reality Check | Notable Quotables | Contact the MRC | Subscribe