---


Liberal Bias by Topic
---
Click here for Gibson's Liberal Bias by Year | Click here for more Profiles in Bias

Charles Gibson


Good Morning America co-host, 1987–1998, 1999–2006,
World News Tonight anchor, 2006 – Present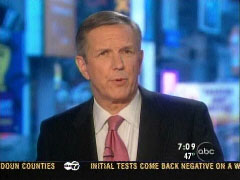 Profile in Bias: Charles Gibson

George W. Bush
Campaign Finance Reform
Catholicism
Bill Clinton
Hillary Clinton
Conservatives
Death Penalty
Democratic Party
Al Gore
Hollywood
Iraq War
John Kerry
Liberalism
Oil
Republican Party
Ronald Reagan
Second Amendment, Gun Rights
Social Security
Supreme Court
Taxes
Terrorism
---
Gibson Promotes McCain's 'Campaign Finance Reform' Policy
---
Ratzinger Too Conservative to Win Papacy
---
---
Poor, Brutalized Hillary Clinton
Cuddling Hillary
---

Conservatives

Rush Limbaugh 'Getting Off Too Easy'
"Rush Limbaugh is set to sign a deal with prosecutors today after three years of prescription drug fraud investigations. But did he get off easy? The controversy ahead... Coming up on Good Morning America, a rush to judgment? He's made a deal with prosecutors. Did Rush Limbaugh get off easy?...We're going to start the half hour with Rush Limbaugh, the conservative radio talk show host. He's expected to sign a deal with prosecutors later today....But now there are new questions: Is Limbaugh getting off too easy?"
— Good Morning America, May 1, 2006.
Gibson Wishes Rush Kinder to Clinton's Weaknesses
Three 'Conservative' Labels in 23 Seconds
Conservatism Is Not Compassionate, Right?
"Bush is using this term 'compassionate conservative' as he campaigns, which is an interesting juxtaposition of two seemingly contradictory terms."
— Gibson to columnist William Safire on the November 18, 1999 Good Morning America.
---
Boasting of Bias
---
Democratic Party

Fawning Over Jimmy "The Great" Carter
"And now we turn to this morning's awarding of the Nobel Peace Prize to Jimmy Carter. To his supporters who nominated him seven times over the last 25 years, it was an honor long overdue....He was the unlikely President, who came out of nowhere. He has become, in the opinion of many, the greatest ex-President of modern times."
— Good Morning America, Oct. 11, 2002.
Gibson to the Left of Ted Kennedy
Rooting for Janet Reno
---
Run, Warren, Run!
Robert Redford's Very Persuasive Boilerplate
---
Al Gore
Do Voters Not Appreciate You, Mr. Vice President?
Gore Not Tough Enough on Gun Control
Will This Campaign Be About Guns?
---
Embarrassment of Trying Saddam Hussein
Bush Trip Can't Hide Iraq Failure
Tyranny is Bad for Children, Too
---
Kerry's 'Stirring Speech'
Heroic Kerry Painted as Victim
---
Cheering 'Very Worthy' Liberal Cause
Gibson Admits There is Liberal Media Bias
In Support of French Day Care
---
Seeing Oil Profits as Obscene
---
Still Enamored with John McCain
Republican Platform Failed to Please Liberals
How Dare They attack King Bill
No Room for Moderates in the Republican Party?
Gibson Scolds 'Divisive' Rudy Giuliani
---
Referendum on Reaganomics
"This election, it seems to me, was a reaffirmation of Reaganomics. We want to repair the infrastructure. We want good education. We want the social services of Social Security, Medicare, and Medicaid. But woe betide any politician who tries to exercise leadership, George, and perhaps institute taxes to pay for those things."
— Gibson interviewing George Will on Good Morning America, November 12, 1990.
---
Lack of 'Progress' in Nullifying 2nd Amendment
Pressing Clinton and Gore from Left on Guns
"When you went to Littleton, a friend of yours, who supports you on gun control, said to me in the last 48 hours, the President, because as he said Littleton has seared the national conscience, the President had a chance to roar on gun control and he meowed, and that was a friend of yours. There are very basic measures that could be taken that people agree on. We register every automobile in America. We don't register guns. That's a step that would make a difference."
— From Good Morning America's live interview with President Bill Clinton at the White House, June 4, 1999.
---
Pushing Phony 'Lock Box' Fears
---
Reversing Past Judicial Activism = Legislating from the Bench
---

Taxes
Lobbying for Higher Taxes
"Just before we went on the air, Diane and Robin, I asked her [Hillary Clinton] - given the fact that it's going to cost so much for recovery [from Katrina] and with what we're spending in Iraq - whether we're not going to have to raise taxes."
— Gibson following an interview with Senator Clinton, September 7, 2005 Good Morning America.
Gibson Again Urges Tax Increase
Tax Cuts Cause Awful Deficits

"On the domestic front, the President last night called for making the tax cuts permanent. Is that, in a sense, making deficits in the hundreds of billions of dollars permanent?"
— Gibson to White House Chief of Staff Andrew Card on Good Morning America on January 21, 2004, the morning after President Bush's State of the Union address.
Endorsing Daschle's Distortions
Can We Afford a Tax Cut for the Rich?
---
Bush 'Knew' About 9/11 Terrorism Plot
Ignoring Clinton's Anti-Terrorism Failures
Blame America First
Gibson Highlights Amnesty International's Attacks on America
---
Click here for Gibson's Liberal Bias by Year
Click here for more Profiles in Bias | Click here for more Media Clips
---
Home | News Division | Bozell Columns | CyberAlerts
Media Reality Check | Notable Quotables | Contact the MRC | Subscribe