---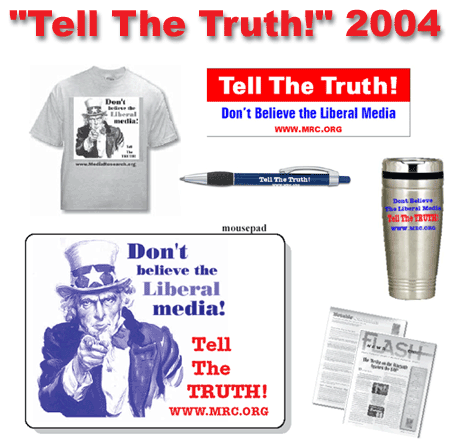 Join the "Tell the Truth!" 2004 campaign at the Patriot Level ($50.00) and receive the MRC's "Media Combat Kit" for FREE. Includes the "Tell the Truth" bumper sticker, t-shirt, mouse pad, silver travel mug, allure pen, a one year subscription to Flash!, Notable Quotables, and the popular CyberAlert e-mail report.
Soldier Level
With a donation at the Soldier Level ($100.00) you will receive Brent Bozell, III's new book Weapons of Mass Distortion, – Release Date July 6, 2004.

General Level
At the General Level ($1000) you will receive all of the above. In addition, your copy of Weapons of Mass Distortion will be autographed with a personal thank you by Mr. Bozell for your "top brass" support of "Tell the Truth!" 2004.
Make a Donation Now!
(via PayPal)
Return to "Tell the Truth!" 2004 Home Page

---
Home | News Division | Bozell Columns | CyberAlerts
Media Reality Check | Notable Quotables | Contact the MRC | Subscribe